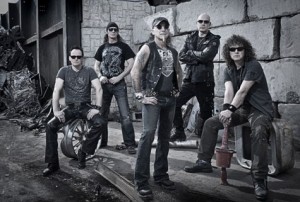 Reformed heavy metal legends ACCEPT have released a new video for the song "Teutonic Terror" featuring footage that was compiled using over 100 fan-filmed concert clips.
Commented ACCEPT guitarist Wolf Hoffmann: "It's amazing now everyone has a camera and can videotape the shows. Back in the day it was a big issue with people bootlegging concerts, [and] now everyone does it. Five minutes after the show's over, it's on YouTube, so we thought this would be a fun way to embrace it rather than to fight against it.
"Back in '85 we did a live album in Japan which was called 'Kaizoku-Ban', which roughly translates to 'Bootleg', so I guess this is our 2011 answer to that.
"It's been a amazing ride, and it's far from over."
ACCEPT will take part in an in-store signing session and meet-and-greet on Friday, April 15 between 4:00 p.m. and 5:30 p.m. at Best Buy Oxford Valley in Fairless Hills, Pennsylvania. Pick up your copy of ACCEPT's "Blood Of The Nations" on CD and have it signed by the entire band. Drum heads will be available to purchase as well to have the group sign.
Best Buy Oxford Valley
310 Commerce Blvd.
Fairless Hills, PA
ACCEPT performed its classic 1982 album "Restless And Wild" in its entirety — including such trend-setting gems as "Fast As A Shark", "Restless & Wild" and "Princess Of The Dawn" — on January 25 at Z7 in Pratteln, Switzerland. These classic songs were supplemented with several new songs from their latest album, "Blood Of The Nations".
ACCEPT kicked off its massive "Blood Of The Nations 2011 Tour" of Europe on January 14. The shows in Osnabrück, Bad Arolsen and Antwerp were packed with passionate metal-loving fans. The two-hour-plus performance pummeled the fans with classics like "Balls To The Wall", "Metal Heart" and the immortal "Princess Of the Dawn", completed with the pedal-to-the-metal bombast of ACCEPT's new hits "Teutonic Terror" and "The Abyss".
The entire "Blood Of the Nations 2011 Tour" will involve over 80 mind-blowing concerts around the globe.
A complete list of ACCEPT tour dates can be found at this location.
"Blood Of The Nations" sold around 2,900 copies in the United States in its first week of release to debut at position No. 187 on The Billboard 200 chart.
ACCEPT 2011 is:
Wolf Hoffmann: Guitar
Peter Baltes: Bass
Herman Frank: Guitar
Mark Tornillo: Vocals
Stefan Schwarzmann: Drums
Via Blabbermouth
Death Scream – Heavy Metal Reviews – Heavy Metal Interviews – Heavy Metal News