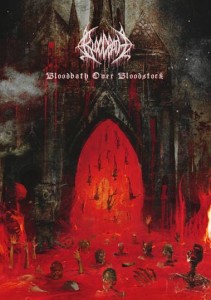 Swedish death metal "supergroup" BLOODBATH will release of an all-new live DVD, "Bloodbath Over Bloodstock", on April 25 via Peaceville Records. The deluxe mediabook-packaged set will feature BLOODBATH's August 2010 performance from the Bloodstock festival — one of the U.K.'s leading metal events — consisting of songs from the critically acclaimed "The Fathomless Mastery" (2008) album, as well as other classics and fan favorites. The full package will also include a 16-page booklet and a wealth of extras, featuring bonus footage taken from Germany's Party.San Open Air festival in 2008 and extensive band member interviews.
"Bloodbath Over Bloodstock" was filmed by The Dark Box, a U.K.-based production company that specializes in providing services for the music industry.
Check out a trailer for the DVD below.
BLOODBATH's "Breeding Death" (1999) album was re-released via Animate Records on January 8, 2010 as a high-quality gatefold 12-inch mini-LP with a black inner sleeve on 180-gram vinyl. The LP contains two bonus tracks and is limited to 999 copies (first 200 copies as collector's edition in golden wax). On side B there's an etched picture which is laser-manufactured and "simply looks killer," according to the band.
"The Fathomless Mastery", the most recent studio album from BLOODBATH, sold around 1,000 copies in the United States in its first week of release, according to Nielsen SoundScan. The CD debuted at No. 45 on the Top New Artist Albums (Heatseekers) chart, which lists the best-selling albums by new and developing artists, defined as those who have never appeared in the Top 100 of The Billboard 200.
"The Fathomless Mastery" was previously described by the band as representing "nothing but hateful brutality." Promising its "most crushing production yet," the group's lineup on "The Fathomless Mastery" is the same as that on BLOODBATH's "Unblessing the Purity" mini-CD, which came out in March 2008:
Mikael Åkerfeldt (OPETH) – Vocals
Martin "Axe" Axenrot (OPETH) – Drums
Anders "Blakkheim" Nyström (KATATONIA) – Guitar
Jonas Renkse (KATATONIA) – Bass
Per "Sodomizer" Eriksson (ex-21 LUCIFERS, GENOCRUSH FEROX) – Guitar
BLOODBATH released a live CD/DVD digipack entitled "The Wacken Carnage" on June 2, 2008 in Europe and June 24 in the U.S. via Peaceville. The package contains footage of the band's appearance at the 2005 edition of the Wacken Open Air festival.
Bloodbath – Bloodbath over Bloodstock (trailer) from Peaceville Records on Vimeo.
Via Blabbermouth
Death Scream – Heavy Metal Reviews – Heavy Metal Interviews – Heavy Metal News