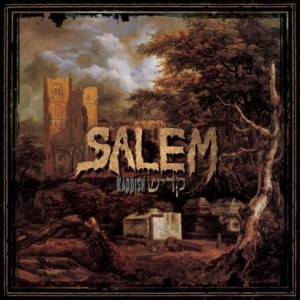 The front cover of the upcoming reissue of "Kaddish", the cult 1994 album from Israeli death metal pioneers SALEM, can be viewed below. Due next week via Raven Music, the CD's cover art and design was handled by the band's guitarist, Nir Gutraiman. The effort was remastered by UE Nastasi at Sterling Sound in New York City.
Originally released through Germany's Morbid Records and was distributed worldwide via SPV, "Kaddish" represents SALEM's personal dirge for the victims of the Holocaust during World War II.
GUNS N' ROSES guitarist Ron "Bumblefoot" Thal will be a special guest at SALEM's May 6, 2011 "Kaddish" re-release concert at Reading 3 in Tel Aviv, Israel.
Commented Thal, "['Kaddish'] is the most true-to-art doom metal album I've ever heard, completely capturing the horror of mankind's utmost vulnerability to evil and self-destruction. Being someone who lost family to the Nazis in Poland, this album tore straight to my soul."
Producer of the event, Yishai Swearts of Raven Music, stated: "Both my parents' roots are sadly in the massacre done by the Nazis. My grandfather at the age of 13 saw his family slaughtered and had to escape to the forests of Russia and live in subhuman terms for four years under the snow and bloodshed. He survived the horror, came to Israel and built a family where I was born.
"I feel that Ron's family's tragedy, my family's tragedy and SALEM members' family tree tragedy made it possible to unite and send a message of strength which is highly important and have a personal value for all of us.
"I am proud and glad to welcome Bumblefoot to be guest in the show and highly respect him for this important thing."
SALEM vocalist Zeev Tananboim added: "'Kaddish' is our desperate cry in memory of the horrors that happened to our families.
"The Holocaust followed me all my life as a dark shade which is so scary to look at. By doing this album we dared to look at the face of the horror and send two important messages: We will never forget, and we are here to survive.
"I highly respect Ron 'Bumblefoot' Thal as a musician and person. Though we live in different parts of the globe, we share the same loss, the same grief.
"Music was created to unite people's feelings.
"We are looking forward to this important show and special musical message with Ron."
Via Blabbermouth
Death Scream – Heavy Metal Reviews – Heavy Metal Interviews – Heavy Metal News