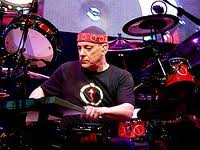 According to MusicRadar.com, RUSH drummer Neil Peart will be a guest on "Late Show With David Letterman" on Thursday, June 9 as part of the "Drum Solos Week". The show's producers have asked Peart to keep his solo down to "three, maybe four minutes," says the drummer.
According to Peart, when he was approached to be part of "Drum Solos Week", his initial reaction was, "I don't know… it's not really my thing. But then I thought, 'Hey, a drum solo on TV — sounds great! I'd be very honored to be the ambassador to drum solos.'"
Peart tells MusicRadar.com that he's not used to trimming down his solo. "My regular live drum solo is about eight and a half minutes, so I decided I'd have to do a mental edit, accelerate the changes and minimize the improvisational parts and so on," he says. "At the rehearsal, during my first attempt, I had it down to about four minutes and 50 seconds, and the producers were giving me these worrisome looks. I got it down to about four minutes and two seconds, which I think is acceptable."
Read more from MusicRadar.com.
Via Blabbermouth
Death Scream – Heavy Metal Reviews – Heavy Metal Interviews – Heavy Metal News