British heavy metal legends JUDAS PRIEST kicked off their "Epitaph" world tour earlier tonight (Tuesday, June 7) at 013 in Tilburg, Holland. The show marked the band's first-ever concert with its latest addition, 31-year-old guitarist Richie Faulkner (LAUREN HARRIS, DIRTY DEEDS), who replaced Kenneth "K.K." Downing in April.
PRIEST's setlist was as follows:
01. Rapid Fire
02. Metal Gods
03. Heading Out To The Highway
04. Judas Rising
05. Starbreaker
06. Victim Of Changes
07. Never Satisfied
08. Diamonds And Rust (JOAN BAEZ cover) (half acoustic, half electric)
09. Prophecy
10. Night Crawler
11. Turbo Lover
12. Beyond The Realms of Death
13. The Sentinel
14. Blood Red Skies
15. The Green Manalishi (With The Two-Pronged Crown) (FLEETWOOD MAC cover)
16. Breaking The Law
17. Painkiller
Encore 1:
18. The Hellion (taped intro) / Electric Eye
19. Hell Bent For Leather
Encore 2:
20. You've Got Another Thing Comin'
Check out photos of the concert at TheMetalCircus.com.
Fan-filmed video footage can be seen below.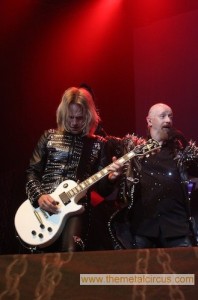 JUDAS PRIEST will launch the U.S. leg of its farewell world tour on October 12 in San Antonio and the band promises that it will go out with a bang. Singer Rob Halford said, "We're pulling out all the stops. We've built a brand new stage set, we've got all the effects that people love us for — the lasers, the fire, the bombs, the smoke, new costumes, and the bike. It's just a full-on metal extravaganza."
Guitarist Glenn Tipton added that the group will play something from each of its albums, including a few numbers that have never been performed live before. As for whether this is really the end of JUDAS PRIEST's touring days, Tipton added, "If somebody came along and said, 'Would you do a small string of dates,' we wouldn't automatically say no to that. But in general, this is probably the last chance you'll get to see PRIEST live."
Via Blabbermouth
Death Scream – Heavy Metal Reviews – Heavy Metal Interviews – Heavy Metal News