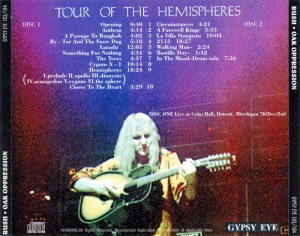 "Good evening mein fronds…" — intoned as Geddy inserts this phrase after "Anthem" piledrives its way to the front of the queue to begin this Tour Of The Hemispheres stopover in Detroit, Michigan USA. One of their most grueling tours, RUSH the masters of grueling tours having already done their dreaded "Down The Tubes Tour" for the 3rd studio album — 1975 same-year "Fly By Night" LP successor "Caress Of Steel" — that seemingly non-stop tour with the 'Nuge (Ted Nugent also not breaking big), the two collective bands suffering lax sales  almost deep-sixing RUSH though on the cusp of the no-one-will-ever-tell-us-what-to-do-ever-again "2112" and subsequent "All The World's A Stage Tour". KISS and Angel also were good matches for Rush at this time and a stage bill to die for.
Digital Reproductions, a RUSH collective of rabid fans, had been formed to scour every nook and cranny of the world in an obsessive quest to seek out concert tapes of high quality bandied about in trading circles or stashed away in dank basements. Their mission was to put them out without any purchase necessary unlike official items, but rather bartered by fans for fans.
This date at Cobo Hall in Detroit would be released by DR, who named it "Buenas Nochas! Motor City", in the year 2000.
Gypsy Eye released this concert from the same source, and sound is excellent, earning 5 stars on the http:www.collectorsmusicreviews.com website as well as getting high marks in the most popular RUSH audio/video bootleg data base — Digital Rush Experience — in the English-speaking world.
Bootlegs from the Hemispheres tour of 1978 and 1979 that are must-have for RUSH and all Progrock-dom:
1. "Waltz Of The Shreves" 2. "Universe Divided" 3. "A Desert Passage (Platinum Edition)"/"Every Soul A Battlefield" (same gig, different recordings) 4. "Buenas Nochas (Motor City)". "Across The Lake" and "A Single Perfect Sphere" are all other recordings of varying differing quality than the album I am reviewing made at this gig. 5."Dedication" (Platinum Edition) 6. "Held Hostage In Hollywood" 7. "A Passage To Oslo (Platinum Edition) 8. "Buenos Nochas Mein Frankfurt!"/"Black Forest" 10. "Fallen Trees" 11. "Tivoli Gardens" 12. "A Right To Passage" (Pink Pop Festival).
Detroit's Cobo Hall came just about two weeks after "A Desert Passage (Platinum Edition). It sounds just like as far as being a great performance-wise if not slightly better, overall.
It is early enough in the tour for us to get Cygnus X.1 Book One, The Voyage followed in the setlist by Cygnus X.1 Book Two, Hemispheres segueing nicely as one song (Book Two) into "Closer To The Heart". Getting closer to the heart was the veneration of AFTK and HMSPHRS, and the song order sets the course to make it so.
A 4-minute "A Passage To Bangkok" from "2112" follows with the fifth song in the setlist being "Something For Nothing" which is also from that groundbreaking, earthshaking RUSH album. Having "By-Tor And The Snow Dog" and the showstopping 12-minute tour-de-force "Xanadu" as songs 3 and 4 in the running order, respectively, are sandwiched between. "The Trees" showcasing the speed and dexterity of Alex Lifeson in which he cavorts his knowledge of classical music, is up next. Then the Progstravaganza begins in earnest  as the "Cygnus X-1 spectacle takes off for 31 and 1/2 minutes, including the aforementioned synthesizer attenuated seamless flow into "Closer To The Heart" to round off the side.
"Circumstances" and "A Farewell To Kings", are in the setlist too, both not heard often enough in this most recent 2nd decade of the new millennium. Yes, indeed, Rush keep endlessly rocking. "A Farewell To Kings" got the onceover in rehearsal quite recently, as this article comes from April 2014, and Rush just wasn't feeling it and thus omitted it.
A busy Bassline from the Gedster fires its way through 2112 like Jack Bruce on steroids. The tepid Bass heard on "2112", the studio jaunt, is shy and laidback compared to what a good two years plus has exploded with the complexity and needlepoint interplay not unlike the Cygnus X-1 books saga. The band are so fired up that "Working Man", "Bastille Day" and the show-stopping drum clinic held by Neil Peart are the encore smashes.
"Xanadu" shimmers and sparkles as the clear standout track.  "By-Tor is shortened and sped through, like the band can't wait to play their most recent works.
I enjoy immensely any of the "Hemispheres" bootlegs that contain 2112 and Cygnus X.1's whole excursion.
"Hemispheres" shows RUSH at their most overreaching but never ever overbearing. In concert they knit each epic together seamlessly and the shorter songs are punctuated by precise, crisp playing and soul-piercing Geddyisms as the floor rumbles from the man's Bass.
– 5 out of 5 stars — oh yes — a must have,