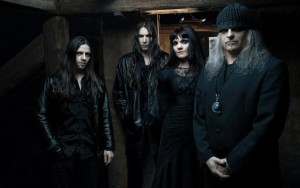 "Eparistera Daimones" — 2010 to be exact — was when we last left the FROSTy Tom Warrior, then committing to a full-length of up-to-date mature Triptykon tunes walking a vicious updated Celtic Frost path. There seemed to be an unconscious effort on Tom Warrior's part to overdo the heaviness factor. Tom? No-one can be heavier. Some will be equal: Sodom and Motorhead. Some will be louder — Manowar (and before that Deep Purple) — which don't even matter under headphones, as the listener can turn it up-up-up.
Candlemass set the stage for what can be done in the name of the Dark and the Death and the Doom. They did a one-off single of "Don't Fear The Reaper". It reeked of morbidity. But we needed the Swiss carving knife to hollow out humanity's hearth.
And along came a spider, like Alice or King Diamond have said; and to strike like Mantas and Cronos of Venom like it's 1983 again.
Tom Warrior is up to the task in this world-gone-mad of 2014. Yielded the lead-heavy baseball bat of "Belana Chasmata". Listen in the dark with something chilled on ice.
I must listen to this album over and over and over. It is that darn good.
First the stand-out tracks, and why —
1. Boleskine House — This mesmerizing, haunting, back to "Into The Pandemonium"-esque ode to a Celtic yesteryear trudges through Frakenstonian darkness. If Danzig had sounded this much like inner sanctum way back when, that Misfit would have had a ghoulish fan for life.
Tom is the ghoulish master of monotone, and against a detached female singing her siren song, chords bend and notes writhe from the electric guitar.
2. Breathing — Earth To Flesh, And Flesh To Earth, as the lyric goes gets repeated. The monotone monarch, Tom Warrior,  is on the money again but it is only a backing role. Tom aggressively selects to do the voice of good 'ol Celtic Frost with a good dose of Mille from Kreator as the upfront audacious vocal track. A delicious Ooh!; from Tom and a strangle-the-dragon lead guitar solo had me grinning like the man I am who can connect the dots. Hellhammer to 'Frost to Coroner (ah, there's the teutonic influence ) to C.F.'s Monotheist to Triptykon.
Tom Warrior has graced us with the best Death Doom album of this millennium, so far.
3. "Tree of Suffocating Souls" is almost 8 minutes of "Visual Aggression". The hyper-perspiring spirit wraiths of Brazil's Max and Igor Cavalera are mixed in to make for more sheer muscle. Tom Warrior's documentary of A Dying God… was an object lesson about the fact that the man who took the sappiness and hairspray right out of the early 1980s, was playing from the gut and the heart. Warrior plays and sings what and how he feels. The authentic Death Fiend. Even Tom Araya at his most slicing can't level up to Tom Warrior. Don't underestimate his influence on guitarists, either. He made many a man and woman say "F*ck that sh*t! I am turning up the distortion, overdrive, and effects pedals' power.
Pure pleasure is this song; the likes that I haven't heard since Germany's vet deathrashers Sodom released 2013's "Epitome Of Torture" LP.
4. "Altar Of Deceit" is my fourth fave. With a Middle Earth meets Middle East beginning, and an Apocalypse soon after. Warrior and co. reach in deep into the past with the dark-ness of Hellhammer's "Triumph Of Death" DeathDoom herald to beguile us. Chambers of fuzz and electrocution drill holes. "Ooh!": Tom Warrior has perfected the deathgrunt to sound eternal and breathtakingly emotive. Just that one word conveys his utter conviction. Let's the man catch his breath. Frank Marino is even conjured up during the solo sounding like "Electric Reflections Of Death" from the Caucasian who would be Jimi.
"Aurorae" is a passionate ode to infernal bodily entwinement. "Demon Pact" is jam-packed with monolithic slabs of limestone. "In The Sleep Of Death" is focused on morbidity, thankfully as Tom Warrior has finally found the muse, again, that saw Celtic Frost making the aeons old Emperors Return.
Music more powerful and paint-peeling can't possibly be found. Only Norway's Immortal tapped the darkness side of Tom Warrior. And only DarkThrone sated me inbetwixt. Estatic Fear and Thergothon, for the advanced Frosty Flake to bask  in deep throbbing pitch blackness merrily.
If you want to thrash intensely gothic and morbid and all then try Cough or Bastard Priest.
Carcass and Asphyx are back. Yet it took Triptykon to come and really ask the fans one thing, after repeated listens to "Belana Chasmata":
Are you (still) Morbid?!?
Yes, Tom — of course.
We were just waiting for you.
Now please close the coffin lid on the way out.
I want to be barren and alone!
– Rich Castle