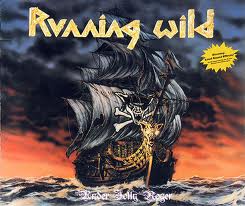 Running Wild – 'The Final Jolly Roger', 2011 LP
This founding Germanic Power/Heavy Metal act has called it quits and to commemorate this occasion a double-disc and DVD of the band 'in concert' has been issued.
'The Final Jolly Roger' contains all of this J. Priest-like Rheinland act's most bruising cuts culled from their career spanning 13 studio albums
from 1984-2005.
2005's 'Rogues In Vogue' is the last of the Running Wild studio discs,
and it left things off on too high of a positive note for comfort, methinks.
As one who has grown to love this band, like I have, let me explain:
Maturity was something that was good for Running Wild as their most original and polished material doesn't start till, their 3rd LP, 1987's 'Under Jolly Roger' –
and the seven studios albums from 1988's 'Port Royal' through 1998's 'The Rivalry' are sheer watershed events.
In 1984 Running Wild along witb three other bands three of them from Germany and one of them from Switzerland,  either too fast, too slow, or too heavy, to fall within the narrow parameter at that point in time, to be classified as 'Heavy Metal' each contributed two tracks to a compilatiion put out by the then fledgling European Noise Records label, not so innocently titled 'Death Metal'.
Only one band on this album – Hellhammer, too heavy and possibly too downbeat to fit the bill, could come anywhere near accurately close enough sonically to be crowned  'Death Metal'.
The term Death Metal in 1984 was an almost derogatory term, even to ardent headbangers of the Heavy Metal golden age.
Def Leppard, Quiet Riot, Motley Crue were in the spotlight.
Black Sabbath, Accept, Blizzard of Oz, Iron Maiden and Accept were known by the mainstream audience to be the craziest bands on the planet.
Venom, Slayer and Metallica had made their arrival on the world stage.
Speed Metal and Thrash Metal was brand new.
Death Metal and Black Metal would explode with seminal acts Bathory, Possessed, Dark Angel, Kreator, Sodom and Destruction all making records for 1984 and 1985.
It all happened so fast and in such a cloak of darkness almost, it seems, that confusion abounded everywhere in the world; a race to grasp the oncoming dark age that Heavy Metal quickly assuaged could not easily be grasped even by ardent Demo tape Metal Underground dwellers.
It would take 5-7 years to sort out all the mess made by this one compilation.
No exaggeration. I lived through it.
Extreme Metal had undergone massive growing pains to become the slick beast
it is made to look like now by the top bands of this very brave new century.
All caused by one album with a faulty title:
I wish I had a dollar for every time I heard someone say in the waning days of the '80's decade:
'They're not Death Metal, right?'
Helloween might have had a wicked sound to start with and some heavy handed topics but they were not even close to being a Death Metal band, ever.
Dark Avenger were loosely categorized as Black Metal lite.
The album 'Death Metal' was a total calamity but a hugely popular disc, anyway, way back in Heavy Metal dayz gone by.
Running Wild are succinctly surmised as being a Heavy, Power Metal band who later in the 1980s started the craze called Pirate Metal and rode that boat gleefully in assumed perpetuity.
Forget all this; how is this Running Wild live album?
One of the Heavy Metal genre's all time best authentic anthems  is on here and it is done up like a bull shot full of adrenaline – 'Raise Your Fists'.
And the rest of Running Wild's best is all here.
Rest assured.
And Running Wild deserve the attention.
Truly.
– Rich Castle
Death Scream – Heavy Metal Reviews – Heavy Metal Interviews – Heavy Metal News