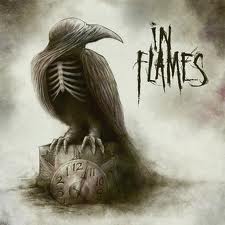 In Flames – 'Sounds of a Playground Fading' 2011 LP, EMI
I recently gazed upon  the limited edition picture disc 12″-inch vinyl copy that I own of In Flames' 1996.
'A Jester Race' LP; their 3rd major effort preceding from the 1993 'Lunar Strain' debut LP and the 1994 'Subterranean' Mini LP.
Truth be told, 1996 would be the peak of my enthusiasm for the refined Swedish Death Metal of In Flames.
Up till now, that is.
What started out as a Northernmost European Death Metal act, as history
would teach me with bands like Therion, Sentenced, Hypocrisy, Entombed, Dismember and others, would morph and evolve away from their original format of pure DM.
Thankfully In Flames are a strong-spirited quintet who after 20 years
have created their own original heavy metal niche. Is it only me though that has noticed a stiffness setting into the tattooed collective skins of In Flames?
The only flaw of this new one:
Song wise it is the rigid formatting on this 10th In Flames full-length studio album that irks me:
verse – chorus – verse – chorus – solo.
The best songs: "Fear Is The Weakness' and 'Ropes' are far and away from In Flames' inauspicious heavy-as-all-heck beginnings, but these are very strong, stand-out tracks that I would prefer to hear seperately as I like the positive messages of these two songs and the catchiness therein.
The 1990s' stepping stone In Flames LP efforts like 'Whoracle', 'Clayman', etc.
are now  distant memories.
The exacting drumwork  and the Gothenborg Swedish charm, however, have remained.
And, hey, what really touched off my nostalgia is Track 11, 'Jester's Door'- as if to answer to the clarion call of my Heavy Metal heart.
2011 and In Flames are still firin' it up.
Just don't get me riled by using the term Melodic Death Metal to describe this bunch, okay?
It has been a long and winding road also for fellow regioneers' At The Gates and Dark Tranquillity.
It's 'melodic' but it ain't 'death' no more.
– Rich Castle
Death Scream – Heavy Metal Reviews – Heavy Metal Interviews – Heavy Metal News