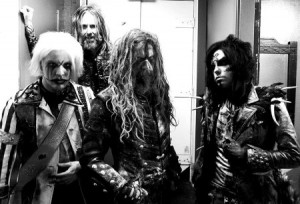 Rick Florino of ARTISTdirect recently conducted an interview with Rob Zombie. A couple of excerpts from the chat follow below.
ARTISTdirect: Where are you at on "The Lords of Salem"?
Zombie: We're in early pre-production. It's a very effects-heavy movie so the effects department had to start much earlier than they have on my other films. They've been working for a month or so now, building and working on things. Once I finish the tour with SLAYER, then we'll go into full-blown pre-production with everything. The difference with film as opposed to the other films I've done, the producers on this are the guys who did "Paranormal Activity". They have a different company and they run it a different way. I've been working on this movie for a while in different ways. Usually, you're not working at all and the studio goes, "Okay, green light! We need it done by this time" and you're in complete madness. Whereas this time, I've already location-scouted many times so I have a lot of locations. It's a more drawn out process which is good because you get to dig deeper into the project. From the moment "Halloween II" started to when it was in theaters, it was a period of about seven months. That's complete madness. You're just racing like maniac every single day to get it done. It's nice to have a little more time to reflect on what you're trying to accomplish. We'll start shooting at the end of the summer.
ARTISTdirect: You and SLAYER do very different things, but you speak to the same audience.
Zombie: I think it's a good match because it's not unlike the tour with Alice Cooper where both acts are very different, but there's a certain sensibility that crosses over in both audiences. Rather than two full sets of being pounded over the head with the same type of thing, musically we're so different and we complement each other well. It feels like it's going to be a really great tour.
ARTISTdirect: Have you begun working on any new music yet?
Zombie: I was actually talking about it with John 5 the other day for a long time. We're very excited to get back to it. I feel like it's been a journey back. It's like the long way around. "Educated Horses" was sort of this weird reformation of the band. "Hellbilly Deluxe 2" was edging back to the old days. Now, with the new band, we really want to take it back to the beginning in a weird way — just a dark, crazy Zombie record. It's almost exactly like what I think people would want us to do.
Via Blabbermouth
Death Scream – Heavy Metal Reviews – Heavy Metal Interviews – Heavy Metal News