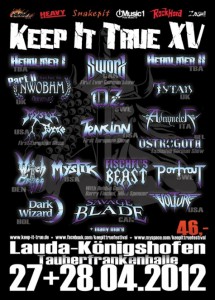 Reunited '80s Montreal power metallers SWORD (not to be confused with Texas-based luminaries THE SWORD) have been confirmed for the Keep It True XV festival, set to take place April 27-28, 2012 ay Tauberfrankenhalle in Lauda-Königshofen, Germany.
The festival billing is shaping up as follows:
SWORD (CAN)
TYTAN (UK)
OZ (FIN/SWE)
TENSION (USA)
MYSTIC FORCE (USA)
ADRAMELCH (ITA)
OSTROGOTH (BEL)
WITCH CROSS (DEN)
MYSTIK (USA)
FISCHELS BEAST (USA)
PORTRAIT (SWE)
DARK WIZARD (HOL)
SAVAGE BLADE (CAN)
VOLTURE (USA)
The festival will also include the "NWOBHM Anniversary Show Part II" featuring ROXXCALIBUR.
SWORD was formed in early 1985 by brothers Mick Hughes (vocals) and Dan Hughes (drums), guitarist Mike Plant, and bassist Mike Larock. After signing with local label Aquarius Records, the band released its debut album, "Metalized", in 1986 and a follow-up effort, "Sweet Dreams", in 1987.
SWORD never made much headway south of the border and split up soon after the release of its sophomore album.
SWORD's sound was previously described as "a muscular brand of classic metal with tasteful riffs and solos by Plant and infectious shout-along choruses."
Rick Hughes released a solo album in 2006 entitled "Train D'Enfer".
SWORD will support ANNIHILATOR at the 2011 edition of the Festival d'Été de Québec (Quebec City International Summer Festival) on July 10 at the Imperial Theater in Quebec City, Quebec, Canada.
Via Blabbermouth
Death Scream – Heavy Metal Reviews – Heavy Metal Interviews – Heavy Metal News