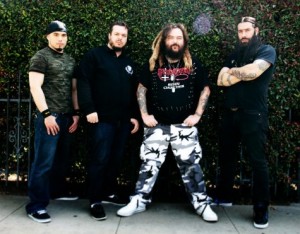 The latest installment of the "Iron City Rocks" podcast (web site) features an interview with CAVALERA CONSPIRACY's Max Cavalera and Marc Rizzo.
SACRED REICH drummer Greg Hall filled in for CAVALERA CONSPIRACY's Igor Cavalera at last Thursday night's (April 28) CC concert at the House Of Blues in Hollywood, California. Igor was unable to make the show due to the fact that he was "stuck in London" as a result of visa issues.
"Blunt Force Trauma", the sophomore album from CAVALERA CONSPIRACY, sold around 5,000 copies in the United States in its first week of release to land at position No. 11 on The Billboard 200 chart. The band's debut CD, "Inflikted", opened with 9,000 units to enter the chart at No. 72.
"Blunt Force Trauma" was once again tracked with ex-MACHINE HEAD/SOULFLY guitarist Logan Mader, who co-produced the LP with Max. Logan also mixed the follow-up to the band's debut album, "Inflikted", which has sold less than 50,000 copies in the United States since its March 2008 release, according to Nielsen SoundScan.
The brothers Cavalera co-founded SEPULTURA, the Brazilian metal band that redefined and established the genre outside of the U.S. and Europe. After Max exited the band, there was a rift between himself and his brother, one that was eventually repaired through the redemptive power of music. Some time had passed and Max and Igor were unable to resist the musical pull in their magnetic fields and their musical collaboration was renewed. The duo are back for round two with CAVALERA CONSPIRACY.
CAVALERA CONSPIRACY's lineup is filled out by guitarist Marc Rizzo, who plays with Max in SOULFLY, and bassist Johnny Chow.
Via Blabbermouth
Death Scream – Heavy Metal Reviews – Heavy Metal Interviews – Heavy Metal News