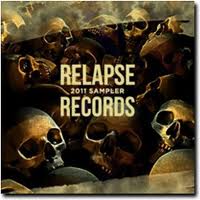 Relapse Records – 2011 Sampler
Over 25 tracks by over 25 different artists from the label that formed with a mission.
In the early 1990s, it was high time for an underground record label to scour the underground in a more fan angled, supportive way.
To explore and incorporate more hardcore and electronic parameters and options within the worldwide Death Metal scene at the dawn of the '90's decade. Relapse Records combed the underground and picked up, as a result, bands that were just too gritty for the other labels.
Here it is 2011 and time for the godzillionth Relapse Records label sampler. Being that it is almost the end of April 2011 as I write this; it is just the right time, four months gone almost, to reconcile what the best bands on this vital record label's sampler are that you should be considering.
You must realize also how out on the limb and quite the gamble that this label took in being so hardcore in the approach to record label signings. Relapse paid attention to what the fanzines and the fans themselves were saying about up and coming acts. Be aware that in the course of all these years the label has branched out and touched upon almost every sub genre associated with Extreme Metal.
I will sift out only the finest moments on this album. I will also give you a warning about one of these bands in which I feel confident in my honesty in leveling criticism at.
Track 13: Kingdom Of Sorrow – 'God's Law In The Devil's Land'- The heaviest guitar tone I have heard in a long, long time. I still can't stop playing their 'Hell On Earth' album. It is blasphemously sublime in it's sum total quotient and a helluva lot of fun. The guitar tone is so heavy that it appears to be snarling. Type O Negative who bore the now-deceased frontman/bassist Peter Steele comes to mind in determining just who may have had a big impact on the vocal part in this song. I am not talking about T.O.N. circa the 'Slow, Deep and Hard' album early in that now defunct band's existence, but rather later circa the later 90's up till the band's demise. Kingdom Of Sorrow do bare a huge debt to Peter Steele and crew. And by the way the band are disputing the fact that they are demised even after the death of Mr. Steele. Quite odd yet I just thought you Death Screamers ought to know this tidbit about the much missed Type O Negative.
Back to Kingdom Of Sorrow. The vocals are not Death Metal when that is what you would figure this band's music might best go with.
No.
Kingdom Of Sorrow are very original and as a result have confident material. K.O.S. are the band that everyone needs to keep an ear out for. I would be remiss to not mention the huge Sepultura as well as Cavalera Conspiracy influences that come into play as regards the amount of crashing and bashing in the song flow. It means that Kingdom Of Sorrow keep their feet on the proverbial gas and hit a lot of accents and frequently which is atypical of 'the boys from Brazil'.
Nice juxtapositioning of lead guitar and some heartfelt vox make for a stunning ending of 'God's Law'.
I remember a band called Warrior Soul who were very original that I have listened to alot and along with Sepultura/Cavalera Conspiracy, Type O Negative and now Kingdom Of Sorrow.
They have all put group emphasis on song construction, above all other considerations.
Kingdom Of Sorrow are what the industry just doesn't have enough of: original talent.
Mose Giganticus – do 'The Great Deceiver' and prove an old slogan in the affirmative.
The one that goes like this:'with a band name like Mose Giganticus it had better be good. Some slight Power Violence– infulenced Hardcore Punk/ Atmospheric powered Death Metal of the most regimented kind, is what you'll find that Mose Giganticus excel at.
M.G. represent a good sub style of Death Metal that just a choice few bands have shined their collective lights on. The keyboards are exceptional and are a vital component to this band's daring output. It is so refreshing to hear and bear witness to such overt originality.
Dying Fetus – 'Descend Into Depravity' – a song from a band that has been around a long, long time and are delivering the goods just like every song is their finest hour.
Dying Fetus are a tight, well oiled, high energy outfit. If there was, literally, a thing called a 'Death machine' it would bear the name Dying Fetus.
When the band debuted back in more innocent days of yore, the words Dying Fetus already relinquished the band to the deepest level of the underground. It posed this stalwart crew an immediate dilemna; what I mean is that they would always as long as they kept the band name, have a hard time breaking out and headlining.
But some bands like Dying Fetus, and I respect this, don't give a hoot about this.
They just wanna play and keep playing.
More power to Dying Fetus, I say.
Red Fang – 'Number Thirteen' – I love the color schemes of red black and white that adorn their releases and have the utmost respect for these guys as they play music that has helped re-invent the sub genre of Heavy Metal called Grunge Metal.
White Zombie did this with a big Rock influence in the 1990s and that is where it started along with of course, the biggies Soundgarden, Foo Fighters, Pearl Jam and Nirvana.
Except instead of shoe gazing like the other slack-jawed serious bands that defined this kind of Heavy Metal music, Red Fang really have socked it to ya, in a fun way.
Puking up alcohol and stomping around a la Anthrax is prevalent. Watch these guys closely because their music conveys the band's sense of pure joy that can felt as an embracement of a feeling of freedom like I haven't heard the likes of in quite a while in Heavy Metal.
Obscura – 'Septuagint' – I would really like to thank Relapse for getting behind this band 1000% as Obscura are worth the massive public relations campaign that the label doles out for them.
It is starting to pay off as the buzz is created around this straight forward Death Metal act.
This is no nonsense.
Obscura are not grinding, they are not doing cookie monster vox, and yet they are hot hot hot.
Watch these guys as they rise to the next tier in the music business.
Obscura are destined to overtake Cannibal Corpse; decapitating the head honchos of Death.
Death – 'Scavenger Of Human Sorrow' – While I still have your attention in this long review, I must tell you about the last track on this Relapse 2011 Sampler. Death are the band that invented Death Metal in the dawn of the 1980s decade of human history on Earth.
Death are also the band that would lay claim to the invention of Technical Death Metal.
Possessed of supreme musical cool, boasting the band leader and deceased guitarist 'Evil' Chuck Schuldiner, lately it has been high time for re-releases of the band's studio albums.
Death's back catalog is a hot item as far as newer fans who hunger to fathom this great Heavy Metal subgenre's origins. The band Death was just the beginning. Yet Relapse have saved them for dead last at Track number 26 on this great compilation. And that is what is called 'going out with a bang'.
Black Anvil – 'Scalping' – Here is a red flag you all ought to know about. I am not doing a press release. This is a bona fide album review, albeit a label sampler. So I won't pull punches. Black Anvil has a really cool band name yet try as I might I really feel that they sorely miss the mark. There are no hooks in 'Scalping' and there is a bad vibe throughout.
Unfortunately there isn't much light at the end of the tunnel for these guys as I have heard many other tunes by Black Anvil and it is always the same deal. Just don't know what is so special about these guys besides the band name.
Brutal Truth – 'Spare The World'– Bassist Dan Lilker of Nuclear Assault/Anthrax repute started this incredible band.
I was toppled when he sent me a demo tape of B.T. out of the blue, one fine day in the 1990s. One of the best Extreme Metal grind units to be birthed ever.
'Spare The World' has that great sardonic wit and wrath that I've seldom heard outside the realm of New York City bands. Hey maybe I'm partial because I am situated here.
Horseback – 'Invokation' – Relapse has a knack for getting bands with cool band names on the label comps. Horseback are another example of how a simple cool band name can make for some not so easily messed with, cool music.
Toxic Holocaust – 'Nuke The Cross'- Right in the meat of this hefty album of 26 tracks comes number 14. 'Nuke The Cross' is an absolutely abysmally wonderful treat. If you haven't heard this band, I have to ask you; what the heck are you waiting for, a bell to ring? Hey, check out the literal smoke and fire of the video that goes with this song on YouTube or somewhere else on the Internet, so you can be subject to the full effect of this Toxic Holocaust.
Ferocious playing on a par with early Slayer; possibly better.
Here is a band with excellent stage presence that is also evident on their studio albums.
'An Overdose Of Death' is the name of the studio album that this song is from. You should be purchasing it immediately after reading this Relapse Sampler review article.
An overdose of Death is exactly what you will be getting.
The attitude and heaviness of Toxic Holocaust is staggering and super focused. The Speed Metal and the Punk Metal, think Motorhead who are the 1970s decade founder of this, factors help slay the listener.
Toxic Holocaust are a joy to behold in this day and age, in 2011, of the stiff upper lip.
Not quite Sodom; not quite Slayer. A focused attack atypical of most all of Toxic Holocaust's material, 'Nuke The Cross' is the best example of what this band can do with it's tight, focused attack.
– Rich Castle
Death Scream – Heavy Metal Reviews – Heavy Metal Interviews – Heavy Metal News