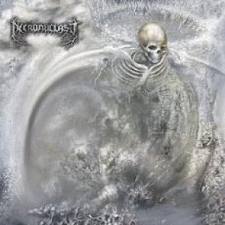 Necronoclast – 'Ashes' 2011
Dwelling in the land of the abstract equations, for lyrical content, is Scotland's own Necronoclast.
The point of reckoning for Necronoclast is their unholy creation in 2003; the year the band was formed.
Four full-length albums have already been incurred by this face-erasingly heavy Black Metal band.
They are as follows:
2007's 'Monument'*, 2007's 'The Plague', 2008's 'Haven', and now 'Ashes'for 2011.
Necronoclast present a nihilistic, grim fate for the Black Metal genre. Scotland may seem an unlikely place for total Black Metal but you never can tell what is coming down the pike. There are others as one realizes Black Metal has proliferated across the globe like a plague, in recent years. And that's okay as I really like Black Metal.
Here is a look at the charred, smoldering songs within:
Note: Tracks not reviewed here, from the eight on offer on this disc, are: Track 3. 'Ashes', Track 6. 'Veil of Flies' & Track 7. 'Kajicnicke Saty'.
Add Necronoclast, if you haven't already heard, heard of, this act, to the list of one-man Black Metal acts that includes among others: Burzum, Xasthur, Leviathan, Iceland's Dysthymia, Germany's The Ruins of Beverast, Quorthon/Bathory, & Isengard.
For playing out on the concert stage many one man bands, Black Metal or not, bring in other members to play different instruments. Sometimes other band members are brought in and things get cooler; check out what the ultimate Viking misanthrope, Quorthon Bathory did as his career picked up after he got some albums under his belt; as he added a bass player and a drummer donning cool names as a plus point.
Maybe it is time, after so many albums, that Necronoclast should put together a line-up and publicize it so the band can be of greater renown.
Track 1. 'Serpents'- A sleighride through the hellish vastlands; 'Serpents' boasts a glorious wall of tortured Black Metal. I should tell you at this point that this album-'Ashes', considered as a totality, screams out a nightmare and can almost be considered one long song.
As 'Serpents' plays I am having images of the untouchable line-up that was 'The True' Mayhem with Dead , on vocals, on 'Dawn Of The Black Hearts' albeit with deeper vocalizations.
Black Death is what Necronoclast play. Blackened Death Metal is what I could have classed Necronoclast's fiersome 'malodies' but it would obscure the fact that this Scottish guy has created, what I will term even more accurately, Plague Metal.
A blood-curdling throaty cry at the three minute mark of 'Serpents' stamps an air of authority on proceedings; reaching out to grab the listener who is in for a lot more misery as the album wears on.
Track 2. 'Looking Glass'- The distortion of Necronoclast is a trance inducing, winning proposition and works it's magic most profoundly on this track. 'Looking Glass' boasts a melodic lead guitar that weeps throughout the song.
Track 3. 'Ravenous' – Marduk or Immortal should not be drawn as a comparison as Necronoclast do not employ blast beats.
As I listen to 'Ravenous', as the third track in, I am starting to hear Dark Throne, Kampfar, Blut Aus Nord and the now defunct U.K. act Dark Heresy.
My expert opinion is that, this album, 'Ashes' hearkens back to Dark Heresy's Unisound Records' release; the 'Abstract Principles Taken To Their Logical Extremes' LP from 1995.
And it is notable that 1995 was the year that Black Metal became the alternative to Alternative, along with Death Metal, and proliferated from then on right up to the present.
Track 4. 'Ghostways'- A wall of venerable explosions and white noise slay the listener before a lead guitar scrawl stabs through the thick fog. I use the allegorical term 'the thick fog' to describe the mix of this album.
You will want to check out the esoteric lyrics that Necronoclast conjures up.
At around the two minute mark a quiet interlude of arpeggiated guitar comes in.
Unexpectedly, at around the three minute mark the tortured wall of sound and tortuous cries begin again to form a mesmeric circular effect.
As I alluded to earlier, the pace is not the shimmering breakneck kind often espoused by Necronoclast's Black Metal cronies across the globe.
Necronoclast has mastered the art of the funereal sound.
Necronoclast are not slow though, as is heard in doomy Heavy Metal/Doom Metal.
One should take each of the four Necronoclast albums, so far, as chapters in a proverbial book.
A album for the introspective misanthrope, no doubt.
Gabriel Byrne has done a masterful job on the album cover.
Cheers.
– Rich Castle
Death Scream – Heavy Metal Reviews – Heavy Metal Interviews – Heavy Metal News