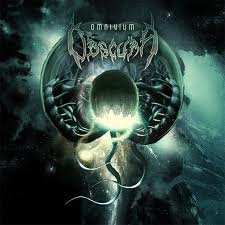 Obscura – 'Omnivium' 2011 LP, Relapse Records
Does Obscura beat out my fave crazy legs Death Metal band, Origin?
Not exactly.
Origin tear it up in the technically gifted land of Death far beyond the pack, I feel.
A better question might be this:
So this is the band that everyone has been seeing everywhere, thanks to a major PR campaign by Relapse Records?
Yep.
Obscura's 'Omnivium' is the band's third LP and it is giving me flashbacks to the first few day I had Morbid Angel's 'Blessed Are The Sick' in my hands in 1991.
'Blessed Are The Sick' is the second Morbid Angel studio album and Trey Azagthoth and crew could never be matched or equalled by anybody. Nile, sad to say, their first few albums didn't move me at all and I really couldn't understand the fuss. The material on each of the first few Nile albums was too samey.
Here we go again: Technical Progressive Death Metal, as the band Obscura is billed, is not, I strongly feel, indicative enough of what is on offer, and sadly this tag means simply that the band in question can play their instruments well and know how to construct a song or ten.
I have been quite vocal about my feeling for the terms that describe the content of the musicality on a Death Metal album. Adjectives like atmospheric, melodic, technical, symphonic, progressive, dark, etc. just don't seem to always jibe when placed before the word 'death', in Death Metal like it should. Do I have a better idea for descriptive words?
No.
Comparisons and detailed descriptions must be incurred to properly identify this tricky music.
In 2009, the tour that featured Obscura saw the band sandwiched between Atheist and Gnostic and resulted in breaking the band big. In the traditional way of proving themselves in a live setting Obscura cemented the proof that they are as deserving the buzz they had created for themselves helped massively, also, by their record label. One visit to their MySpace page will give you an idea of how blown away people are with 'Omnivium' and Obscura as a whole.
Please don't let all the hype about Obscura being like the band Cynic phase you. Cynic were founded upon a mission to be as complicated as could be possible and the word technical was rote above all.
Obscura though do have much in the way of complexity in their songs' frameworks, no doubt. Yet they are a very different animal than others that play technically.
Does Coroner sound much like Cynic? No. Of course not. My major criticism takes aim at the fact that Obscura's  music, now in it's third stage by way of this third studio album that they have made, has sounded the way it does for about seven years now and still doesn't allow all that much wiggle room in which the band can truly groove.
As the beast called Obscura, from Germany, rumbles on to a fourth album inevitably, they will want to have some kind of groove thing to make their tracks more than two dimensional and to give it a shake and a shine.
This is tough stuff to map out for all you in the Death Scream audience. A maturity and a loosening up of the reins that are tightened at the moment must happen for Obscura to be the force they want to be. Stiffness is Obscura's only problem, to put it into one word.
Obscura are vying to take the sole position at the top as Death Metal's new champs. The coarse texture that made the 2nd LP, 'Cosmogenesis', from 2009 a bit rough going at times has thankfully been smoothed over a lot due to a fine production on 'Omnivium'.
I will admit that this is not my favorite template for Death Metal, going on here. Fretboard gymnastics started by the likes of the powerhouse band Sadus I feel were done as well as could possibly be done by that Californian war machine and I am of the unmoving opinion that it can't be improved upon. I speak the truth here and I know that I am bound to raise a few eyebrows, but so be it.
Obscura have chosen the land of the 6 string bass guitar, if only figuratively speaking. The 6 string bass guitar has been used by the likes of the aforementioned Origin and just may be the solution that at least I am hoping for, to allow wiggle room by way of the bass guitar instrument having as much notes as the 6 string electric guitar in which to sync up ideally. Primus and The Dillinger Escape Plan come to mind for bands possessed with impressing by way of gymnastical like skills on the frets of their instruments.
Primus and The Dillinger Escape Plan, you see, are as much in evidence in Obscura's grand scheme of all things Death Metal as is Morbid Angel, Obituary and Nile.
Karl Sanders and Trey Azagthoth are the grand imperial wizards of six string Death Metal mayhem. Please add Obscura's Steffen Kummerer to the pack of unbelievable and unbelievably heavy purveyors of barrages of sonic bullets that fire on the electric guitar.
So advanced is the guitar leads of Steffen Kummerer that his interludes form their own passages and passageways.
The German penchant for Death Thrashing Metal still shines through like the night sun in the vestiges of Obscura.
Each song has that trademark Germanic bumrush that birth chaotica in every riff executed in just under half the songs on display on 'Omnivium'.
The best song on 'Omnivium' is not 'Septuagint' as you thought I might say, right? No. I don't like it. The song is too long and it is too complicated for Death Metal. Sorry.
The song highlights, though, are as follows: 'Prismal Dawn', having a sweet title and a badass riff that mutates and absorbs it's surroundings. The bobbing and weaving gets into a steady rhythmic shake. I like this track the most of all the songs on offer on 'Omnivium'. Real breakthrough stuff for Obscura.
'A Transcendental Serenade' has interlocking guitar, bass and drums and plays like an audial jigsaw puzzle; the kind with 5000 pieces that makes you feel like a genious after you have got it all together. It is quite satisfying to witness this track coming together in such a cohesive manner.
'Velocity' is a six minute song that, sorry, once again misses the mark.
'Euclidean Elements' sounds a bit different than the rest of the 'Omnivium' LP. Mark my words that this will be what the fourth Obscura studio album will sound like. Obscura are at their absolute best when the lead guitar dictates the mood of the song and leads it, also.
Obscura are Germany's biggest splash and since the middle of this decade have been bringing Teutonic terror to each and every aggressive soul on the face of the planet.
The one thing I can tell you for certain that has changed a bit with German Extreme Metal bands, if we go back to the Mid 1980s, is a slight loss of that Deutschlandian originality.
Obscura are part of the new breed of Death Metallers that have a ton of promise going for them.
– Rich Castle
Death Scream – Heavy Metal Reviews – Heavy Metal Interviews – Heavy Metal News