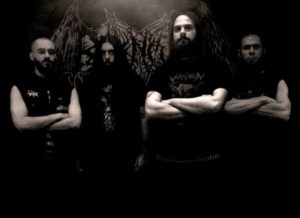 Like a bat out of hell, Ravencult, following up on a celebrated Thou Art Lord split release from 2015 — are about to release a killer 3rd album "Source Of Profanation".  And it is their first for the enterprising Metal Blade Records. Now do I have your full attention? Let me tell you why:
Guitar playing this exacting and Metal-perfect will gain this album a stronghold in the top echelons of the best-albums-of-2016 end of year lists. Trust me.
Hailing from Athens, Greece, Ravencult follow on in the grand tradition of Rotting Christ, Varathron, Septic Flesh, and Nightfall.  Ravencult have brought blackened thrash metal kicking and screaming into 2016, sounding unlike anything that construed as stale or tepid. They are new lifeblood for Black Metal worldwide.
Guitarist Stef (yep, that's his name) is amazing. And his band is tight around him. That, my friends, is a winning combination. "Morbid Blood", their 2nd LP, propelled Ravencult's music to the level it needed to be to stick out from the rest of the Black Metal cesspool still wallowing in a faceless orgy of mediocrity — and liking it.
Continuing onwards and upwards into the darkened skies of Extreme Metal, comes the first single — "Beneath The Relics Of Old".
Bathory, with their yellow-goated first, self-titled LP started all this blackness in 1984. Now 32 years later Ravencult have actually improved on the original formula.
Finally.
Buy or die? Yep.
(shaking my head approvingly:) Mean it.
-Rich Castle