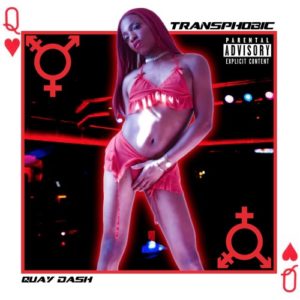 Satanic Transgender Ghetto Rap, anybody? From the dank project-littered streets — where the cockroaches are often bigger than the gangsta homies —  of Bronx County, New York City, comes Quay Dash.
The self-proclaimed M-I-C holding "Queen of NY", Quay has thrust herself and her very direct brand of Rap into the spotlight on the strength of her best feature: Nastiness. Here's a brief snip of what you can expect when you venture forth to find her latest work, "Transphobic":
"Got this nigga hard like a #2 pencil", Quay opines in one of her rants. This future-fated Village Voice newspaper centerpiece (no doubt) is climbing the popularity ladder with her "Transphobic" EP. She is a lone, bold voice loudly speaking out on the perils of transgender life as she prances across the stage. One listen to Quay baying "This is for my ghetto bitches" in a sick mantra is enough to realize what a force and a what a big splash this artist is making in the entertainment industry. She will soon embark on a tour with the legendary person known famously as Peaches.
Quay Dash released "Satan's Angel" in 2015 on Hip Hop House.
So Chillax with "Transphobic" and stay tuned for more, more, more!
– Rich Castle