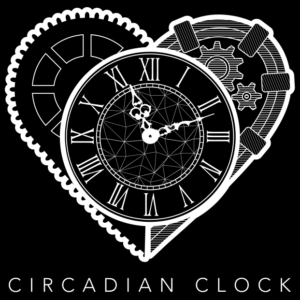 Psithurismically speaking, Circadian Clock, have sailed into a brand new breezy and cool day like the Fabreze of Rock n Roll that they are. Dualistically able to sound wild and fancy free with their self-assessed "Ridiculous Rock" style lending depth to their tried-and-true consistent take on Alternative (Rock), Circadian Clock are a band whose time has come to shine.
The disarmingly (one again self-assessed) authors of strange music made by strange people, the band lead by the stunning lead vocalist and rhythm guitarist/ Melissa Folzenlogen — ( completed by core members
lead guitarist / Ari Friedman and
bassist / Mike Delfino) — strike with a whirlwind of energy with their timely Halloween paean "Sick". The official video recalls Jasmine Trias whom American Idol watchers, no doubt, will be able to understand how I relate her to the specter of the demure and comely  Folzenlogen. Melissa also exudes a presence not a million miles unlike Amy Lee of  Evanescence.
Musically, the femme fatalic vocal histrionics of Folzenlogen combined with her acting ability, immediately, in one song's duration, are convincing and domineering enough to catapult Circadian Clock into the top echelons of Pop stardom shortly. The band, as a whole, run the gamut of styles ranging  from Jazz, Classical and Metal also.
Watch this New York outfit go far.
– Rich Castle