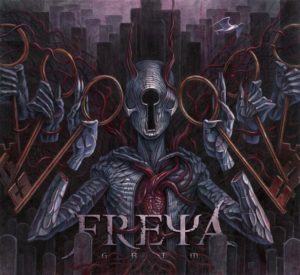 It should take only one  listen to Freya track, "The Alchemist" — easily accessible on Soundcloud to understand that these boys' take on Metal (Heavy!) is way deadly! And way cool. Mind-bendingly heavy, at that.
Freya bursts forth with a collection of "Grim" battle pieces.
Freya hails from the fertile mountainscape of Upstate, New York. Long live Bathory and Manowar as Freya are now in the prime of their iron-strong career and quite possibly surpass these legends. Animating their Norse goddess-filled dreams with this "Grim" brand-spanking new album tomorrow – 9/30/16, Freya are excited very about this and have made this upcoming record release fact known by posting "9  30  16" as their Facebook banner.
Karl Buechner of Earth Crisis fame is on vocals. He is a masterful powerhouse and bellows in a deafening and supreme manner befitting his extensive experience on the microphone.
Brendan Flynn singes with his six-string axework.
Dirk Verbeuren beats the hell out, speedily usually, of his skins in a mighty manner that is to be well-expected from a man that has drummed for Satyricon and Megadeth.
Muscular drums and muscular vocals are the bottom line, as well as Freya's calling card.
Phew.
-Rich Castle