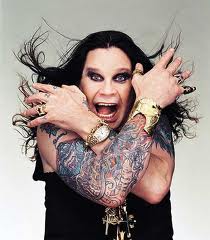 Last week Ozzy Osbourne stopped by the Rolling Stone offices to discuss his new album "Scream", his forthcoming world tour, the death of Ronnie James Dio and the possibility of a BLACK SABBATH reunion (see video below). "I love those guys — Bill [Ward, drums], Tony [Iommi, guitar] and Geezer [Butler, bass]," he told Rolling Stone about a possible return to SABBATH. "I never say never anymore because you never know what's going to come around."
"I'm willing," Osbourne added. "But there are three other guys as well. It goes backwards and forwards. One day this, one day that. I'm up for it. But we'll see. If it's meant to happen, it'll happen."
Osbourne did admit that the prospect of the reunion is a little daunting. "The pressure of doing a new BLACK SABBATH album is enormous, and for it to be as good as what we did back then," he said. "It's been 30 years since we actually sat down and tried to write together, and we've all changed so much. I know I have."
Osbourne told VH1 Radio Networks' Dave Basner last week that the chances of another reunion of the original BLACK SABBATH seem more remote with each passing day. Ozzy explained, "To be honest, I don't think we all can physically do it. I'm up for it, I keep fit every day. I can't speak for the others. I mean, I've spoken to Tony Iommi, I speak to Bill from time to time. I haven't spoken to Geezer for a while, but if it's meant to happen, it'll happen."
Butler recently released a statement via his official web site in which he made it clear that "there will be definitely NO reunion of all four original members of BLACK SABBATH, whether to record an album or to tour."
Although Ozzy and Iommi had some legal issues in recent years over the use of the BLACK SABBATH name, that was all settled in 2010. Ozzy told The Pulse Of Radio at the time that he was still open to the idea of a reunion. "Well, I never say never," he said. "I mean, I've got a few ideas, but we'll see what happens, you know. We did try and do another album, but we've all changed so much and it's — if you don't do an album that blows the doors off the last one that we did together, then it's gonna be looked upon as a joke, you know."
The original SABBATH lineup has not toured together since the summer of 2005, and last convened for their induction into the Rock And Roll Hall Of Fame in early 2006.
The group did try to record a new album 11 years ago, their first since 1978, but abandoned the attempt after just a couple of songs.
Iommi and Butler toured and recorded from 2007 to 2010 with latter-day SABBATH singer Ronnie James Dio and drummer Vinny Appice under the name HEAVEN & HELL, until Dio's death last May from stomach cancer.
Via Blabbermouth
Death Scream – Heavy Metal Reviews – Heavy Metal Interviews – Heavy Metal News