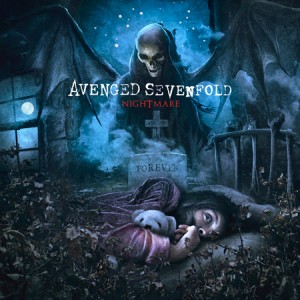 "Nightmare", the latest album from Southern California's AVENGED SEVENFOLD, has been officially certified gold by the RIAA (Recording Industry Association Of America) for shipments in excess of 500,000 copies in the United States.
Former DREAM THEATER drummer Mike Portnoy played on "Nightmare" following the death of AVENGED SEVENFOLD's drummer, Jimmy "The Rev" Sullivan, and toured with AVENGED for the entire second half of 2010.
Commented Portnoy upon receiving his "Nightmare" gold-album plaque: "Thanks so much to the AVENGED SEVENFOLD fans for making me feel so welcome and loved during my time with the band."
AVENGED SEVENFOLD recently filmed a video for the song "So Far Away" with Wayne Isham, who has previously directed videos for such established artists as METALLICA, MÖTLEY CRÜE, SIMPLE PLAN, PANTERA, 'N SYNC, SHANIA TWAIN, GODSMACK, BRITNEY SPEARS, LEONA LEWIS, PINK FLOYD, SHERYL CROW, JOSS STONE, MADONNA, AVRIL LAVIGNE, DEF LEPPARD and BON JOVI.
Isham previously helmed AVENGED SEVENFOLD's video for "Nightmare", the title track of the band's 2010 album, which came out last summer and was AVENGED SEVENFOLD's first No. 1 record.
AVENGED SEVENFOLD is currently taking part in the headlining "Welcome To The Family Tour" with support from THREE DAYS GRACE, BULLET FOR MY VALENTINE and SEVENDUST.
AVENGED SEVENFOLD kicked off the "Nightmare After Christmas" tour on January 20 in Reading, Pennsylvania. The show marked AVENGED's live debut with Arin Ilejay, formerly the drummer for Los Angeles-based Christian rock group CONFIDE, who is sitting behind the kit for all of AVENGED's upcoming tour dates.
Ilejay played on CONFIDE's 2008 debut album, "Shout The Truth", and appeared on tour with the group.
Sullivan was found dead in his Huntington Beach, California home at the age of 28. His death was attributed to a lethal combination of prescription drugs and alcohol.
Via Blabbermouth
Death Scream – Heavy Metal Reviews – Heavy Metal Interviews – Heavy Metal News