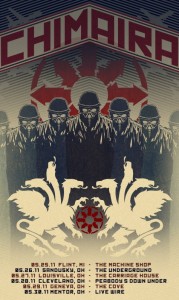 Cleveland, Ohio metallers CHIMAIRA have scheduled the following dates:
May 25 – Flint, MI – The Machine Shop
May 26 – Sandusky, OH – The Underground
May 27 – Louisville, OH – The Carriage House
May 28 – Cleveland, OH – Peabody's Down Under
May 29 – Geneva, OH – The Cove
May 30 – Mentor, OH – Live Wire
CHIMAIRA has unveiled its new lineup following the recent departures of drummer Andols Herrick and keyboardist/programmer Chris Spicuzza.
CHIMAIRA 2011 is:
Mark Hunter – Vocals
Rob Arnold – Guitar
Matt DeVries – Guitar
Emil Werstler (DAATH) – Bass
Sean Zatorsky (DAATH) – Keyboards/Samples
Austin D'Amond (BLEED THE SKY, THE ELITE) – Drums
Although D'Amond will sit behind the kit for all of CHIMAIRA's upcoming shows, the drum tracks on the band's recently completed new album were laid down by the CD's producer, Ben Schigel, who has previously worked with DROWNING POOL and WALLS OF JERICHO, among others. Tentatively due in August in North America, South America and Japan via eOne Music, the effort was mixed by Chris "Zeuss" Harris (HATEBREED, SHADOWS FALL, MURDERDOLLS, 3 INCHES OF BLOOD) .
CHIMAIRA took part in a live video chat on the band's Ustream channel on April 14. Footage from the chat can be seen below.
Drummer Andols Herrick announced his departure from CHIMAIRA earlier this month, citing "some of the same concerns that" keyboardist/programmer] Chris Spicuzza "mentioned in his statement [announcing his split from the group], namely the current state of the music industry and concerns about my future." Andols added, "A major transition in life is much more manageable at 31 than it is in your late 30s or early 40s, so as a guy with literally zero experience in anything else, better now than later. Plus, it would be hard to go back without feeling constantly uneasy about the situation."
Spicuzza explained his exit from CHIMAIRA by saying that the "situation in CHIMAIRA had ultimately become a negative environment that I had to get out of. Secondly, the music industry is completely fucked and honestly, I became concerned for my future. The amount of work and stress I took on got the best of me. I guess if you're not happy or having fun, what's the point?"
Bassist Jim LaMarca left CHIMAIRA last year in order to focus on family life.
Via Blabbermouth
Death Scream – Heavy Metal Reviews – Heavy Metal Interviews – Heavy Metal News