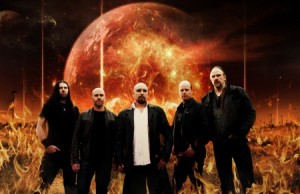 FULLFORCE — the new Swedish melodic metal outfit featuring Mike Andersson (CLOUDSCAPE, SILENT MEMORIAL, PLANET ALLIANCE) on vocals, Stefan Elmgren (HAMMERFALL) on guitar, Anders Johansson (HAMMERFALL, YNGWIE MALMSTEEN) on drums, Carl-Johan Grimmark (NARNIA) on guitar, and Tommy Larsson (HEED) on bass — recently filmed a music video with director Rainer Holmgren (PAIN OF SALVATION). The clip will make its online debut on May 12.
FULLFORCE inked a worldwide deal with SPV/Steamhammer. The band's debut album, "One", will be released on June 20 in Germany, June 23 in the rest of Europe and June 28 in USA/Canada.
Commented Andersson: "After being in contact with a few interested labels during these last months, we are happy to announce the decision of becoming a part of the SPV family! SPV is a label with great metal tradition and it's an honor for FULLFORCE to join forces with them for the release of our debut album, 'One'. In SPV we see a good vision and a great future for FULLFORCE… this is the best thing that could have happened to us!"
Added SPV A&R representative Olly Hahn: "There are always reservations regarding bands with ex-members of well-known bands, but with FULLFORCE it's different. I think that a lot of people will be very surprised when their hear the songs. It's great to have the band on our roster and I'm sure that there is a bright future for the band."
According to a press release, FULLFORCE describes its music as "a genuine blend of traditional, catchy heavy metal [and] more updated melodic metal with some ethnic touches which will make them a standout within the genre."
"One" track listing:
01. Mythomaniac (4:02)
02. None Of Your Concern (3:35)
03. Heart And Soul (3:31)
04. Oblivion (4:53)
05. Open Your Eyes (4:25)
06. Rain (4:33)
07. Suffering In Silence (3:06)
08. Walls Of Secrets (4:33)
09. Father Spirit (4:51)
10. Bleed (5:07)
11. Into The Cradle (5:01)
12. Best Of Times (iTunes bonus track) (3:49)
A rough-mix version of "None Of Your Concern" can be streamed in the YouTube clip below. The band states, "The actual video is in the simplest of ways put together by lead singer Mike Andersson and the song is the real recording for the album but, a 'test mix' done by C.J. Grimmark. So, the footage is 'homemade,' but the music is the real deal."
According to FULLFORCE's official bio, "Mike and Magnus met for the first time in 2006 during the recordings of the PLANET ALLIANCE album. They became very good friends right away both musically and personally so, since the recording of that album Mike and Magnus have often talked about working more together. Same thing goes with longtime friend Stefan Elmgren and Magnus after the departure of the well-known metal band called HAMMERFALL. They also talked often about starting up a new band together, so the course was more or less set in late 2008 when Magnus gave Mike a phone call asking him if he was interested in starting up a new band with him and Stefan."
For more information, visit www.fullforce.se.
Via Blabbermouth
Death Scream – Heavy Metal Reviews – Heavy Metal Interviews – Heavy Metal News