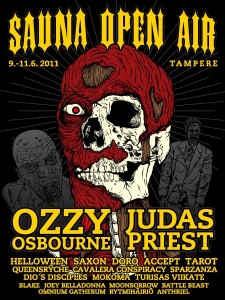 The latest OzTV webisode featuring behind-the-scenes footage from OZZY OSBOURNE's June 9, 2011 appearance at the Sauna Open Air festival in Tampere, Finland can be viewed below. The concert marked the legendary heavy metal singer's first show of his current European tour.
Ozzy's setlist consisted of the following songs:
01. I Don't Know
02. Suicide Solution
03. Mr. Crowley
04. Good Bye To Romance
05. Bark At The Moon
06. Road To Nowhere
07. Shot In The Dark
08. [Guitar And Drum Solos]
09. Iron Man
10. Fairies Wear Boots
11. I Don't Want To Change The World
12. Crazy Train
13. Mama, I'm Coming Home
14. Paranoid
Fan-filmed video footage of the performance can be viewed below.
The reissues of OZZY OSBOURNE's classic first two solo albums, 1980's "Blizzard Of Ozz" and 1981's "Diary Of A Madman", sold around 6,000 copies each in the United States in their first week of release, according to Nielsen SoundScan. They arrived on May 31 in definitive editions that restore and remaster the original recordings. Both were made available separately or as part of a deluxe box set that features both albums on CD and vinyl, a 100-page coffee table book, a documentary on DVD and a "full-size detailed replica of Ozzy's iconic cross."
Both albums come with previously unreleased bonus tracks and have been restored and remastered from the original analog recordings.
The albums restore the bass and drum tracks played respectively by Bob Daisley and Lee Kerslake, which were controversially removed for a 2002 reissue by Ozzy's wife and manager Sharon over a royalties dispute.
The "Blizzard Of Ozz" reissue comes with three bonus studio tracks, including an alternate version of "Goodbye To Romance" and a song never released in the U.S. called "You Looking At Me, Looking At You".
The "Diary" reissue comes with a bonus CD of live performances captured on Ozzy's "Blizzard Of Ozz" tour.
The documentary, "30 Years After The Blizzard", chronicles Ozzy's early solo years and features previously unseen footage of him and Rhoads filmed in 1981 and 1982, along with rare archival photos and films, new interviews, and more than 70 minutes of additional live performances and interviews.
OzTV webisode:
Via Blabbermouth
Death Scream – Heavy Metal Reviews – Heavy Metal Interviews – Heavy Metal News