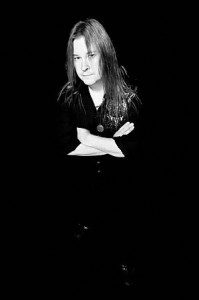 According to Koolmuzone, former MEGADETH/KING DIAMOND guitarist Glen Drover is currently working with SWARAS, a semi-classical pop/rock Pakistani band from Toronto, Ontario, Canada. Glen is producing and playing lead/bass on SWARAS' new song, described by the band as "a Raag-based progressive rock track which will be a total surprise to our listeners. It will be more musically inclined then vocally but we will be maintaining the Eastern classical/Mid-Eastern feel to the track. Glen is also playing the lead and bass guitars along with Hassan and also producing the track for us as well however all the music arrangement is done by Hassan Bokhari."
Drover (pictured below) recently released a solo single, "Ground Zero", through iTunes. Magna Carta Records pressed a very limited amount of CD copies, which are available through Amazon.com. This single also features a alternate version of the song, which contains different solos from Glen and Jim Gilmour (keyboards), as well as a different mix.
"Ground Zero" is the first single from Drover's debut solo album, "Metalusion", which was released on April 5 via Magna Carta Records.
Via Blabbermouth
Death Scream – Heavy Metal Reviews – Heavy Metal Interviews – Heavy Metal News