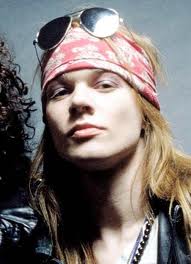 According to the Beverly Hills Courier, GUNS N' ROSES frontman Axl Rose and his former manager have settled their lawsuits concerning commissions and concert touring.
"They were settled to the mutual satisfaction of the parties," said attorney Howard King on behalf of the singer's ex-manager, Irving Azoff.
Although the terms weren't divulged, lawyers for Rose filed papers after a preliminary accord was reached stating that the final accord would involve "a comprehensive touring agreement in which GUNS N' ROSES would perform at various…venues."
Rose was sued by Front Line Management in March 2010 for nearly $2 million dollars in unpaid commissions, according to the Associated Press. The company filed a lawsuit in Los Angeles, claiming that Rose owed the company $1.9 million, or 15 percent of the more than $12 million that Rose had earned from performances in Europe, Canada and South America, based on an oral agreement.
Rose responded by filing a countersuit that claimed Azoff tried to bully Rose into doing a reunion tour with the original GUNS lineup. According to The Pulse of Radio, Rose claimed in his suit that Azoff did everything he could to sabotage the current version of GUNS after Rose said no to the reunion idea last year, alleging that Azoff tried "devising and implementing a secret plan to set up Rose and the band for failure so that Rose would have no choice but to reunite with the original GUNS N' ROSES members."
Rose's suit added, "Upon realizing that he couldn't bully Rose and accomplish his scheme, Azoff resigned and abandoned GUNS N' ROSES on the eve of a major tour, filing suit for commissions he didn't earn and had no right to receive."
The claim also added that Azoff, in his own lawsuit, deliberately used Rose's real name, William Bailey, because it "carries significant emotional damage from Rose's childhood."
In October 2010, Azoff filed an official answer to Rose's charges by asserting 14 affirmative defenses to Rose's claims he breached fiduciary duty, committed constructive fraud and breached a contract. According to The Hollywood Reporter, Azoff states in his response that Rose claims "are barred by statute of limitations; there was a waiver; There was an accord and satisfaction; that Rose consented to Azoff's actions; that Rose failed to take reasonable steps to mitigate the damage; and that any harm that came to Rose was due to the singer's own negligence, fraud or misconduct."
Via Blabbermouth
Death Scream – Heavy Metal Reviews – Heavy Metal Interviews – Heavy Metal News