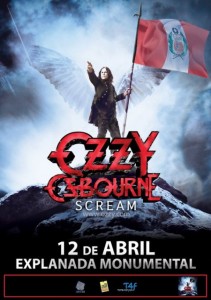 The latest OzTV webisode featuring behind-the-scenes footage from OZZY OSBOURNE's April 12, 2011 concert at Explanada Estadio Monumental in Lima, Peru can be viewed below.
Ozzy's setlist was as follows:
01. Bark at the Moon
02. Let Me Hear You Scream
03. Mr. Crowley
04. I Don't Know
05. Fairies Wear Boots (BLACK SABBATH cover)
06. Suicide Solution
07. Road To Nowhere
08. War Pigs (BLACK SABBATH cover)
09. Shot In The Dark
10. Rat Salad (BLACK SABBATH cover) (with drums and guitar solo)
11. Iron Man (BLACK SABBATH cover)
12. I Don't Want To Change the World
13. Crazy Train
Encore:
14. Mama, I'm Coming Home
15. Paranoid (BLACK SABBATH cover)
On May 31, music fans will have their first taste of reissues from rock icon Ozzy Osbourne's catalog of work with the releases of two albums which form the cornerstone of Ozzy Osbourne's career as a solo artist: "Blizzard of Ozz" and "Diary of a Madman" (Epic Records/Legacy Recordings). Long revered by rock fans around the world, these two albums created a template for hard rock in the 1980s and beyond as they were marked by the ground-breaking and historic union of Ozzy and the late guitar hero Randy Rhoads. These definitive versions of 1980's "Blizzard of Ozz" (with previously unreleased bonus tracks) and 1981's "Diary of a Madman" are available individually on vinyl or CD, or together in a deluxe collector's box. All versions were restored and remastered from the original analog sources by George Marino.
"God Bless Ozzy Osbourne", a feature-length documentary about the life of the BLACK SABBATH singer and solo metal legend, will premiere at the 10th annual Tribeca Film Festival. The festival kicked off on April 20 in New York City.
The movie features never-before-seen archival footage of the rock star. It also has interviews with family members, friends and fellow musicians.
The film was co-produced by Ozzy's son Jack. It was the first film released by Jack's production company, Jacko Productions.
The film was originally titled "Wreckage Of My Past: The Ozzy Osbourne Story".
"God Bless Ozzy Osbourne" was directed by Mike Piscitelli and written and produced by Jordan Tappis.
Jack and Ozzy's wife, Sharon, financed the film themselves.
It is described as a "definitive portrait of a troubled star — told in part through the eyes of his family — (that) relives Ozzy's artistic triumphs while chronicling his arduous journey to sobriety and peace."
Via Blabbermouth
Death Scream – Heavy Metal Reviews – Heavy Metal Interviews – Heavy Metal News