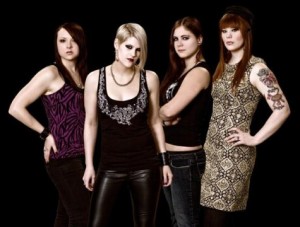 Veteran all-girl Canadian metal outfit KITTIE has uploaded a 20-second video clip of the band "jamming a new song." Check it out below.
KITTIE is scheduled to enter Beach Road Studios in Goderich, Ontario, Canada this week to begin work on its as-yet-untitled sixth album for a summer release via eOne Music. The band will once again work with producer Siegfried "Siggy" Meier, who helmed KITTIE's last CD, 2009's "In The Black".
Commented KITTIE guitarist/vocalist Morgan Lander: "We have been working exceptionally hard these cold winter months, crafting what is to be our six full-length release, and our second for eOne. In some cases these new songs are faster, darker and much more sinister than our previous release. It contains some of the most difficult and personal subject matter I have had the pleasure (or displeasure) of writing."
Added Meier: "The girls have written some incredible and personal songs this time around. They're heavy as shit and relentless. It's a pleasure and an honor to be doing another record with one of the best metal bands of our time."
"In The Black" sold around 3,400 copies in the United States in its first week of release to debut at position No. 132 on The Billboard 200 chart.
KITTIE's previous CD, "Funeral for Yesterday", opened with 9,000 units back in February 2007 to land at No. 101.
"In The Black" was made available in Europe on October 23, 2009 via Germany's Massacre Records.
KITTIE last year took part in the Thrash And Burn tour alongside ASKING ALEXANDRIA, BORN OF OSIRIS, STICK TO YOUR GUNS, IMPENDING DOOM, THROUGH THE EYES OF THE DEAD (first half), EVERGREEN TERRACE (second half), GREELEY ESTATES, PERIPHERY, MOTIONLESS IN WHITE and CHELSEA GRIN.
KITTIE is:
Morgan Lander (Guitar, Vocals)
Mercedes Lander (Drums)
Tara Mcleod (Guitar)
Ivy Vujic (Bass)
Via Blabbermouth
Death Scream – Heavy Metal Reviews – Heavy Metal Interviews – Heavy Metal News