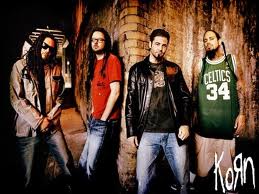 Despite widespread speculation to the contrary, KORN is not quite looking for a new musical direction on its next release. While the band is collaborating with famed dubstep DJ Skrillex and others for an upcoming EP, singer Jonathan Davis told The Pulse Of Radio that a full-blown change in the band's musical style isn't in the cards. "I don't think it was us looking for a new direction," he said. "It was just something that I stumbled upon when I stumbled upon dubstep and first heard Skrillex and a lot of different dubstep DJs. I loved the heaviness of it, and so we decided to make this EP and to go in that direction for a couple of songs, and then I'm sure we'll go back and do a regular record."
The EP is due in May and follows up last year's album "Korn III – Remember Who You Are", which marked a return to the band's early sound.
A new track from the EP, called "Get Up", is available for free download at the band's official web site.
"I heard a few of Skrillex's remixes and really felt there would be a good chance that he would have the right sensibility to connect us to a new hard sound and direction, but still keeping KORN guitars and our vibe," Davis told SPIN.com. "We were just thinking of trying something new, to be honest, so I had my manager reach out to the Skrillex camp. When we got into the studio the connection was instant!"
According to The Pulse Of Radio, KORN will join the ranks of other world-famous Sony Music artists when "The Essential Korn" is released on May 10. The two-disc, 29-song collection will feature classics from the band such as "Blind", "Shoots & Ladders", "Got The Life", "Freak On A Leash", "Falling Away From Me", "Here To Stay", "Alone I Break", "Did My Time" and many more, including the recent "Oildale (Leave Me Alone)" from the band's latest effort, "Korn III: Remember Who You Are".
KORN has actually not been with Sony Music for its last three albums. It signed with Sony in 1994 and issued its last record through the company, "Take A Look In The Mirror", in 2003.
KORN is currently off the road, but will appear at Pointfest in St. Louis on May 15 and Rock On The Range in Columbus, Ohio on May 21 before hitting the European festival circuit.
Via Blabbermouth
Death Scream – Heavy Metal Reviews – Heavy Metal Interviews – Heavy Metal News