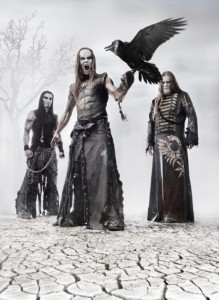 Polish extreme metallers BEHEMOTH will return to the live stage in October — marking the band's first public appearances since guitarist/vocalist Adam "Nergal" Darski was diagnosed with leukemia last August.
Commented Nergal: "I'm proud to announce that we've just nailed these Polish leg of the tour! Fans from abroad, please be patient, Asia, Australia, Europe and U.S. are under working. I'm beyond excited! I wanna see you all out there!"
The dates are as follows:
Oct. 08 – Poznan – Eskulap
Oct. 09 – Gdansk – Parlament
Oct. 14 – Krakow – Studio
Oct. 15 – Katowice – Mega Club
Oct. 16 – Wroclaw – Eter
Oct. 21 – Warszawa –Stodola
In a recent interview with Metal Sucks, Nergal stated about BEHEMOTH's upcoming touring activities, "The October shows are just to get warmed up. Then we might do some shows in Australia and Asia — that's the plan. Then the priority for early 2012 is a European tour, then shortly after that, a U.S. tour. This is our top priority for the next year and we're going to fucking do it!"
He added, "Just wait and see us on the stage. You'll see. I'm not going to reveal anything about it, but we … It's not gonna just be BEHEMOTH. It's not like time stood still for us, like we were frozen in time and are just going to appear with the same entourage and in the same outfits. No. We're going to come back, we want to remind people of our existence obviously, but we want to make a fucking impact, an impression. We want to show them that, hey, we are still fucking evolving. We're not just hoping that you'll come to see us because I was sick. Fuck that. I'll be better soon and we're going to deliver!"
Speaking to Revolver magazine last month, Nergal said, "We just decided to play some so-called comeback shows in Poland just to warm up and see how we feel, just to be onstage again together. And I really hope that it's going to turn out great and that it's going to cause other tours and stuff. We have plans until the summer of next year. We already have some cool offers. We're talking to our agents. There's some really, really cool ideas. I don't want to reveal anything yet, but once we're done with October shows, and we feel good about it, and there's chemistry onstage, we definitely want to continue the 'Evangelion' touring cycle. There's still some markets we didn't even touch. We've done over 100 shows so far to 'Evangelion'. We're going to do another 100 at least, and then we can focus on the next record.
"To be honest, we can't wait to hit the stage again. I'm so fucking anxious. I'm so excited, so psyched about it. I have dreams about coming back onstage. I dream about BEHEMOTH shows. It's insane, I know, but I can't tell you how much it's a relief to the band and how much it means to us."
Nergal underwent a bone marrow transplant procedure in December.
Video footage of BEHEMOTH's January 7, 2010 performance at the Theater Of The Living Arts in Philadelphia, Pennsylvania can be viewed below.
Via Blabbermouth
Death Scream – Heavy Metal Reviews – Heavy Metal Interviews – Heavy Metal News