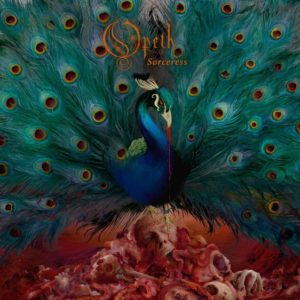 There are just some bands that can't and shouldn't try to NOT be so Metallic, (as in Heavy Metal), as they once were so ably. Opeth are an aggressive beast and function best as such.
Compare "Sorceress", the title track, from the new Opeth opus — "Sorceress" — to "In Mist She Was Standing" (from Opeth's "Orchid" LP). Opulent and Extravagant is the OTT Progressive Metal of 1990's Opeth. The melancholia and other-worldliness that this powerhouse band once captured can't be meted out within a so-called-Prog Rock framework that they have made their agenda with for the last decade.
(Fyi: Sweden's In Flames are the best example of a band, to give, that has made the transition from raucous Death Metal to mainstream.)
Rockfield studios in Wales may be the birthplace of Opeth's 12 studio LP, where Judas Priest, Rush, and Queen have made incredible albums, but the tepid prodution on "Sorceress" just blows. The overall sound makes it sound like Opeth did this recording in a small, suffocating box.
A little reminder to fans: Opeth can't teach you about Prog Rock history as their own history is more Death Metal than any other style of music, we get down to pure essence. Pure aggression has given way to meandering and the Opeth of 2016 has just become a sub-standard Dream Theater affair with albeit great drumming but certainly not singing.
Abandon ship.
-Rich Castle