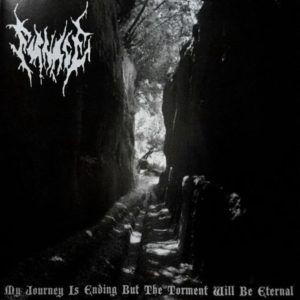 Sometimes a record is released that truly must slowly seep up from the underground; a cult release, per se. Fornace are just such a band. With 6 songs clocking in for a duration of 51:29, this band from the exotic locale of Casale, Monferrato, in Alessandria (Piedmont) is a true throwback to old Abruptum and Blasphemy — and Fornace's black star is indeed rising.
Horror, Darkness and Evil is the order of the day for this young, dank yet vibrant four-piece. I believe the lead singer's name is "Possessed". (Oh Lord) Yet, for confusion's sake — as a different line-up is presented on the first album, with Ms. Possessed listed as the Bass player for that one. Oh well.
"Pregnant Is The Night" was the name of the debut album that made Fornace a name to be reckoned with in the deep Black Metal underground morass. Only one look at the color scheme for that one then, and conversely, one look at the black and white layout for this one: The difference is that this 2nd Fornace album is done like the great older BM genre releases with only Metal muscle and a turgid yet ample production to pull it together.
Marduk, Absu and Abbath/Immortal fans will really dig Fornace.
"From The Darkest Meanders Of Our Thoughts" bashes and crashes it's way along to be my number one pick. It almost has an Iron Maiden way about it.
-Rich Castle