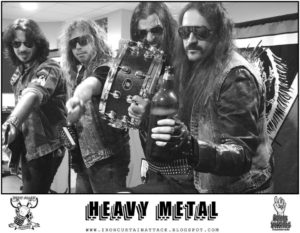 Iron Curtain have thrust out of the gate with this new raging pure Heavy Metal number on Pure Steel Records. A combination of Loudness, early Helloween, and prime Rainbow, "Into The Fire" is a towering tumultuous, turbo-charged attack on the senses. The lead guitar work burns with intensity and sparkles with perfection.
Taken from the "Guilty As Charged" album, ("Road To Hell" and "Jaguar Spirit" LPs preceding), Iron Curtain's love for the bashing and crashing of Judas Priest is evident when this lead-off track begins uncannily like Priest started their own speed-scorcher, "Freewheel Burning"(from "Defenders of the Faith").
"Into The Fire" is the perfect album opener. Singer Mike Leprosy is a Latino and his Spanish accent is sure to tickle the fancy of wily and willing female listeners whom are tried and true. Many don't understand the sexual aspect of singers outside of Pop music . Yet Heavy Metal is a physical musical sub-genre, and this is where the Rainbow comparison comes to the fore and can be understood. As the bottom line is that a great lead singer must have sensual energy, and Mr. Leprosy clearly has this quality in spades.
Defend the faith and go balls to the wall with Iron Curtain.
Feel the heat.
-Rich Castle