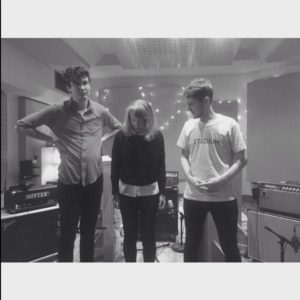 A 7-inch vinyl gem has cropped up from the Land down Under. It is brought to us by Australia's own Heart Beach, and "Counting" is two-and-one-half minutes of pure joy. The B-52s or The Replacements would be a good touchstone to get you more in touch with the fun reverb-laden sound that beats down on the sun-drenched Heart Beach's groovy metaphorical sand. This band has hit on a winning formula as this two-song affair is a non-staid winner.
Heart Beach thoroughly recalls the "Silver Threads and Golden Needles" hit song written by Jack Rhodes and Dick Reynolds, a classic yarn, that was first recorded by Wanda Jackson in 1956, and much later on popularized by sultry Latina Pop/Rock torch singer — Linda Ronstadt. 
In any case, Heart Beach are getting a name with their self-deprecating Scuzz Pop style which is an easy feat for this beguiling and tantalizing Tasmanian Trio who prides themselves on not fitting into the glitz and fashion scene that epitomizes modern Rock.
Heart Beach have a Punk  element to their outlook, as they have been known be hyper-vigilant, as well as very "anti" concerning things as mundane as vitamin supplements and dental floss. As for checking out this quirky side of the band, though, I would recommend their song called "Brittle".
But start with "…/Relief".
-Rich Castle