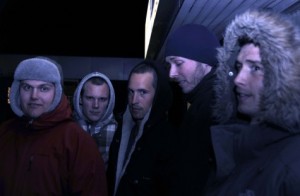 NUMBNUTS, the Danish band which features in its ranks singer Esben "Esse" Hansen (HATESPHERE, ex-AS WE FIGHT), has inked a deal with Mighty Music. The group's debut album, "Smokey The Salmon And Horny Mermaids Of Detention", will be released in Europe on August 1. The CD was produced by Jacob Olsen (THE SETUP, CROCELL) and features guest appearances by Henrik Heinz Jacobsen (KOLDBORN, ex-HATESPHERE) and Martin O$ Olsen (AS WE FIGHT, KOLDBORN).
According to a press release, NUMBNUTS "are masters in delivering thrash with the roots buried deep in a rock 'n' roll kind of hardcore."
For more information, visit www.numbnuts.dk.
Via Blabbermouth
Death Scream – Heavy Metal Reviews – Heavy Metal Interviews – Heavy Metal News