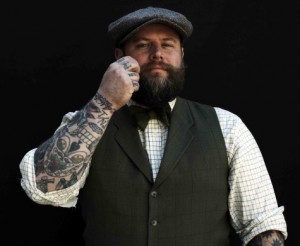 Norwegian "Despots of Deathpunk" TURBONEGRO have called upon old friend, legendary Londoner and former DUKES OF NOTHING frontman Tony Sylvester to step in as their new vocalist.
Sylvester, 38, cuts a formidable figure. A longtime stalwart of the British hardcore punk scene and music industry veteran, he was the President of the London chapter of the Turbojugend fan club and has previously worked with the band as their U.K. press officer.
Tony is a connoisseur of the finer things in life, especially music of all genres and 19th century English literature, in addition to being a part time plus-size model (for, amongst others, Burberry) and member of the men's fashion editorial staff at GQ Style magazine.
TURBONEGRO has been on a two-year hiatus since the split with former vocalist Hans Erik "Hank Von Helvete" Dyvik Husby in 2009, after his decision to pursue a career in acting, the Church of Scientology and goth rock.
Sylvester will perform his first show with TURBONEGRO at the Turbojugend World Days in Hamburg, Germany on July 15.
Commented lead guitarist Euroboy: "Well into the second song we played with Tony, I stopped thinking this was an audition — it was just a great sound! We ran through a bunch of songs and had a lot of fun, he knew all of them! Tony pulled off the songs with a raw-yet-elegant attitude to his performance that makes him an obvious choice as the new singer of our band. We had a list with a few other names on, which we ripped in two and left on the floor of our rehearsal place."
Added bass player Happy-Tom: "Tony is the fan who we in turn became fans of early on, before becoming close friends. He has the powerful, soulful voice and the presence we have always been looking for in a singer and we are STOKED to have this magical gentleman or gentle THUG aboard!"
Stated Tony Sylvester himself: "I was incredibly honored to get the call up and blown away by the way the sound came together so quickly. It's going to be different for sure — there's a little more filth in my pipes, but as a longtime jugend, I want to assure the Turbojugend that the legacy is in safe hands."
The new lineup is already working on songs for a new album.
Via Blabbermouth
Death Scream – Heavy Metal Reviews – Heavy Metal Interviews – Heavy Metal News