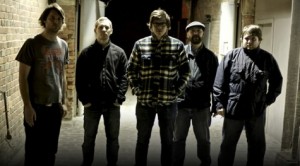 British progressive metal act BEECHER has announced that it will be playing no further shows together and there will be no new material; the band is once again calling it a day.
BEECHER was signed to Earache Records, having released two albums and toured extensively before splitting up in 2005. They reformed to play three shows earlier this year, but have so far remained non-committal as to what the future may hold for them.
Commented frontman Ed Godby: "When we knocked it on the head in 2005, our personal lives were in various states of disarray and we had no inclination to continue with things. Several years on, lives sorted out a bit and the urge to pick up where we left off was strong, so we planned a few shows to see how we felt about the whole thing.
"The shows were fantastic, especially London and our hometown show in Manchester, but instead of feeling like a new beginning, it felt like an appropriate full stop to all things BEECHER."
Ed has a new band called CASTLES, which will be recording its debut album with Chris Fielding at Foel Studio, Wales this summer. Dave Hopkinson (bass), Mark Lyons (guitar) and Daniel Jones (drums) are in the early stages of a new band together, with Jones also playing in DAY FOR AIRSTRIKES. Dan Shaw (guitar) currently plays in THE ERGON CAROUSEL and PINE BARRENS.
Via Blabbermouth
Death Scream – Heavy Metal Reviews – Heavy Metal Interviews – Heavy Metal News