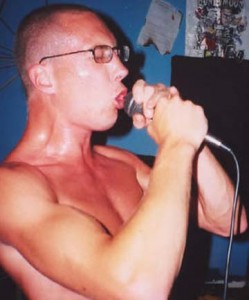 According to Otago Daily Times, police investigators are still looking for three knives that might be connected to the murder of the lead singer of one of New Zealand's longest-running death metal bands, BACKYARD BURIAL.
35-year-old Matthew Hall (pictured below) was murdered in a ferocious and personal attack in his home in Johnsonville on February 15.
The officer in charge of the investigation, Detective Senior Sergeant Dave Thornton, said close to 20 detectives were working on the investigation and still had more work to do to identify Hall's killer.
"During this investigation there has been several people of interest. One of these people is Timothy Parlane, who made alleged admissions about being responsible for Mr. Hall's death, before his sudden death in March. Given Mr. Parlane is now deceased it has made it challenging for police to corroborate this."
BACKYARD BURIAL released its debut album, titled "Symptoms Of Psychopathology", in 1999.
Read more from Otago Daily Times.
Via Blabbermouth
Death Scream – Heavy Metal Reviews – Heavy Metal Interviews – Heavy Metal News