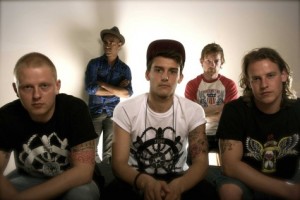 Danish metallers NEW DISCOLOR have inked a deal with Mighty Music. The band's debut album, "Short Of Ink", will be released in Europe on August 1.
According to a press release, NEW DISCOLOR is "a progressive and hard-hitting band that uncompromisingly challenges and explores the metal genre's fundamental sound. The band was formed in 2008 and the year after they recorded their first EP, 'Silent Scream', in cooperation with Christian Bonde (INVISIUS, DAWN OF DEMISE, THE CLEANSING). The EP sparked widespread attention and publicity, [resulting in a nomination] for 'Best Metal Artist' at Underground Music Awards."
NEW DISCOLOR is:
Artem Kushnirenko – Vocals
Lasse Mikkelsen – Drums
Jesper Rasmussen – Guitar
Søren Thomsen – Guitar
Mayu Tharumann – Bass
For more information, visit www.facebook.com/newdiscolourdk.
Via Blabbermouth
Death Scream – Heavy Metal Reviews – Heavy Metal Interviews – Heavy Metal News