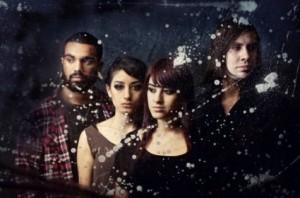 EYES SET TO KILL is going through a rebirth. After completing its deal with the band's old record company, the Phoenix quartet will independently release its fourth studio album, "White Lotus", on August 9 through a joint venture between its management, Maphia Entertainment, and the group's newly-launched label, Forsee.
"White Lotus" marks a new beginning for EYES SET TO KILL and a step away from the band's trademark screamo resonance as the effort possesses more of a metal flavor and more clean singing than was the case in the past.
Regarding the new CD's title, vocalist/guitarist Alexia Rodriguez states, "It's a metaphor for our whole take on our future with a rebirth of our whole band and just having a clear mindset. Everything is a lot heavier. Even the songs that have all singing and not much screaming are still heavy. We're making this what we feel like we ought to be."
Dave Aguilera, EYES SET TO KILL manager and owner of Maphia Entertainment, believes "White Lotus" will see the band blossoming and reaching new commercial heights.
"Their music has really evolved over the last few years from a female-fronted young post-hardcore band to a real radio-metal contender," he states. "The sky is the limit with their new sound. I think the masses are finally about to hear about them."
The first single from "White Lotus" is "The Secrets Between", which will be available for free download on June 16 as a special thank you to the fans who have supported the band in the past. "It's one of the heaviest songs on the album and for the song, we kept the whole singing-and-screaming thing," Rodriguez states. "There's still an even amount, but I think it's a good representation of where we are trying to go and what we wanna sound like."
After releasing its first three studio albums through BreakSilence/Suburban Noize Records, EYES SET TO KILL decided to "escape the fire-breathing world of label politics" and instead launched its own independent label, Maphia/Foresee Records, to release the new CD. They already have the tools in place to make it a success.
"Being on our own and even recording on our own, it's so refreshing," Rodriguez says. "We just went to Europe on our own, we got all these past tours on our own and most of the recent tours we opened, we got on our own without the help of a label. Figuring out we can do everything by ourselves with just the help of our manager and agent made it opens our eyes. I feel like everyone should do this."
As an original founding member of both OTEP and BLEED THE DREAM, Aguilera co-produced nine records and sold over 400,000 units. In 2002, he transitioned into a behind-the-scenes role as he discovered and co-managed platinum-selling act YELLOWCARD. In 2009, he was named the Vice President of A&R for BreakSilence and then in late 2010, he left to form Maphia Management, which currently manages over ten international bands, including EYES SET TO KILL.
With Aguilera lending his expertise and guiding them, EYES SET TO KILL has a strong friend and partner in their corner.
"I put out my own records for years as well worked at labels for years and worked at numerous management companies as a manager," Aguilera says. "Unlike most managers, I started out as an artist myself and can relate to other artists. One thing I will never do is forget why I got into this game in the first place, and that's to protect my bands and not take advantage of them. I think in the future, smart management companies are going to start working with their artists more closely outside of just management."
Via Blabbermouth
Death Scream – Heavy Metal Reviews – Heavy Metal Interviews – Heavy Metal News