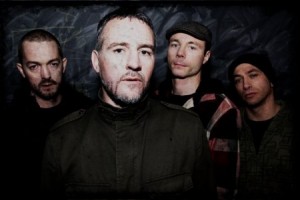 Due to "unforeseen circumstances," reformed U.K. crossover metallers ONE MINUTE SILENCE have been forced to pull out of this year's Sonisphere festival. This was an extremely tough decision for the bandmembers to make as they have been itching to get out and fire up the pit once again, but life complexities have simply not allowed them to ready themselves to their "incredibly high standards," according to a press release.
Explained vocalist Brian "Yap" Barry: "We have tried so hard to get ONE MINUTE SILENCE back in shape in time for Sonisphere.
"Music can be a funny path.
"Our sounds were finding ground, but then the ground just seemed to crumble.
"We have been working so hard to make it all come together, but in truth, it has be a real struggle.
"We tried so hard to be ready, but the fact is that as it stands today we are not ready.
"We were desperately not wanting to let any ONE MINUTE SILENCE fans down but we sadly have to pull out of the Sonisphere gig on July 9. Huge apologies from all of us if you bought a ticket especially to see us play.
"Life is life, folks, and we are genuinely sorry. We want you to know that this is also just one gig we're cancelling — we are still focused as a band and will continue to write and rehearse new material as we have been for the past eight months and when we feel ready, we will take the stage again and see you all in the pit."
Although hugely disappointed, the members of ONE MINUTE SILENCE haven't been deterred from their plan — "to write a killer new album that will be the heaviest new sound to hit in decades." The group is still hoping to release a new track this summer and tour in the autumn.
Vocalist Brian "Yap" Barry, guitarist Massimo "Massy" Fiocco and bassist Glen Diani are joined in the current ONE MINUTE SILENCE lineup by new drummer Martin Davies, a virtuosic player who brings even more power and dynamics to the OMS machine.
Many will remember ONE MINUTE SILENCE for their incredible live shows. Their intensity and energy levels were arguably unmatched by any band, making them THE must see live band of the time and earning them the title "Best British Live Act" by Kerrang! magazine.
Yap previously stated about the band's decision to reform: "Initially I wasn't sure if the energy and punch that we had would still be there, but when we got in the rehearsal room together, there was no denying it — in fact, it's stronger than it ever was. Everything we were talking about politically and economically ten years ago has come true today and it's appalling that honest working people are now footing the bill for decades of laissez-fair economics, corrupt banking and elite corporatocracy. We're angrier than we ever were and more experienced this time with it — expect blood."
Davies commented on joining the band: "I was recommended by a friend to Glen, who lives close to me in Bradford, to work with him on his solo project and we just jelled creatively straight away. Then last year when the idea of OMS was being discussed Glen put me forward and I met the band for some rehearsals earlier this year. I'm very excited about the raw energy and creativity within the dynamic of the band — it's very current and subversive which is what I thrive on."
Via Blabbermouth
Death Scream – Heavy Metal Reviews – Heavy Metal Interviews – Heavy Metal News