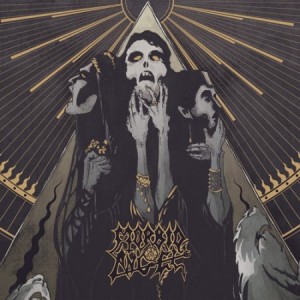 An audio sample of "Nevermore", the first single from "Illud Divinum Insanus", the long-awaited eighth studio album from Florida-based death metal veterans MORBID ANGEL, is available for streaming at Amazon.com.
The "Nevermore" single will be made available on May 16 as a digital download and seven-inch vinyl single. The B-side is an exclusive version of new song "Destructos Vs. The Earth", remixed by COMBICHRIST.
"Of all the remixes I've been asked to do I never expected one of the world's most notorious death metal bands to have an interest in hearing their music on the dance floor," said COMBICHRIST mainman Andy LaPlegua. "However, 'Destructos' is one of those tracks that are so versatile that it could have been recorded as a folk song and it would still sound amazing.
"I'm honored to be a part of this project and am excited to see how the MORBID ANGEL fans react to this unusual new direction."
The cover artwork for the single was designed by French artists Valnoir and Fursy Teyssier for Metastazis.
U.K.'s Terrorizer magazine has posted a track-by-track description/preview of "Illud Divinum Insanus". Check it out at this location.
"Illud Divinum Insanus" will be released on June 7 (one day earlier internationally) via Season of Mist. The cover artwork was designed by Gustavo Sazes and can be viewed below.
"Illud Divinum Insanus" track listing:
01. Omni Potens
02. Too Extreme!
03. Existo Vulgoré
04. Blades for Baal
05. I Am Morbid
06. 10 More Dead
07. Destructos Vs. the Earth / Attack
08. Nevermore
09. Beauty Meets Beast
10. Radikult
11. Profundis – Mea Culpa
"Illud Divinum Insanus" will be available in the following formats:
* Wooden foldout box
* Metal starpak CD (outside North America)
* Deluxe digipak CD (North America only)
* Double gatefold LP with download card
* Jewel case CD
* Digital download
Most of these formats are already available for pre-order on Season of Mist's e-shop.
The wooden foldout box is a triptych made of solid fine wood with all panels engraved, and includes the following items:
* "Illud Divinum Insanus" CD in real leather-bound book
* "Illud Divinum Insanus" double gatefold LP in coloured heavy weight (180 grams) vinyl, different from the regular LP edition
* Two black candles with red wax Blasphegram and their holders
* Incense burner with incense
* Exclusive poster
* Exclusive full colour t-shirt with back print
All above items are exclusively made for this limited box and will not be available separately!
Commented Sazes: "To create this cover we worked from several references, ideas, elements, and I would say a 'world' of options and paths.
"After a long brainstorming period and some [good and bad] ideas left behind, we came up with the concept of this organic surreal insane being; a fallen God or a weird mirror image of our own madness. It is a different MORBID ANGEL cover for sure, but I think that's how MORBID ANGEL is…Deviant and different on each new release. They never repeat themselves. They are always pushing the boundaries and setting new standards.
"I'm really proud of the final results and hope the fans appreciate my work, while listening to the new album!"
The drum tracks to six songs on "Illud Divinum Insanus" were recorded at Mana Recording Studios in St. Petersburg, Florida with engineer Erik Rutan (former MORBID ANGEL guitarist and producer for such bands as CANNIBAL CORPSE and GOATWHORE). The new CD will be the band's first to be recorded without longtime drummer Pedro "Pete" Sandoval, who last year underwent back surgery for a deteriorating disc problem. Filling in for him on a temporary basis is Tim Yeung, who has previously played with DIVINE HERESY, ALL THAT REMAINS, NILE, HATE ETERNAL and VITAL REMAINS).
Via Blabbermouth
Death Scream – Heavy Metal Reviews – Heavy Metal Interviews – Heavy Metal News