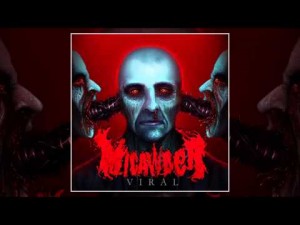 31 minutes and 51 seconds of ghoulish, brutish nasty Death Metal. It is loud, played and produced well and clearly. Micawber hail from the West of the U.S.A. The band has made 3 excellent EPs before debuting with "Viral".
I have no idea what their band name means nor exactly how to pronounce it. Nor is their blood-smeared logo that readable.
The vocals lean more towards the kind found in the best European Grindcore. Micawber doesn't go all out to gross you out and it is actually their musicianship that consistently impresses. The accent and whole axis of this album is to have a flow that listeners can follow and satisfyingly make it through the whole album feeling sated.
I find Micawber a lot more Heavy Metal than, say Hate Storm Annihilation. The brutality factor gets overdone these days. And unless you can do it convincingly, it will sound like raging Hardcore Punk Rock.
Micawber have a really scary feel and songs like "A Timid Existence", "Victims Of Persusasion" and especially the song "Mechanized Enslavement" top the 9 songs we are presented with. There is even a Nile-like Eastern snaking feel to the proceedings that works really well. I like the way the album picks up 2/3 of the way in, keeping the listener's attention with heads-down terrific songwriting. The band is not out to outdo the best but in not seeming to do that, come off confident and striding anyhoo.
Nod your head a lot as this album is fun! I think it may not be an album you put on over and over but I can guarantee that it is going to hit the spot; it is authentic DM/GC. It growls just the way ya like it.
The next album should be a monster if Micawber keeps the focus and direction like they have here on their first full-length effort.
Great stuff. Needs your support.
http://micawbermetal.bandcamp.com