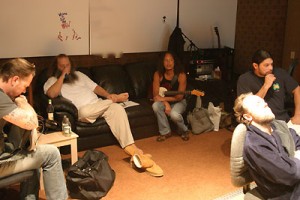 Producer Rick Rubin, who is also co-chairman of Columbia Records, tells Billboard.com in a new interview that METALLICA is "about to start writing" material for the follow-up to 2008's "Death Magnetic" album, Rubin's first collaboration with the group. "I had a meeting with [METALLICA drummer] Lars [Ulrich] in San Francisco… to explore what the focus was going to be this time around," Rick says. "I'm still sort of thinking about what that is going to be. I'll ask a lot of questions and we'll probably listen to some of the riffs that they've been writing. Usually I'll hear something that will sort of indicate the direction and then we'll talk about it from there."
METALLICA bassist Robert Trujillo told Palm Springs, California radio station KCLB-FM in April about the band's decision to once again utilize Rubin's services, "Yeah. I love working with Rick. Rick, to me, he's sort of a Zen guru spirit that METALLICA needs right now . . . The first album with Rick was also the first album for me, so in a lot of ways, you're kind of testing the water. Now that we're comfortable with Rick and his incredible engineer, Greg Fidelman . . . it's a great team. And it's only gonna better; I really believe that."
METALLICA decided to work with Rubin on "Death Magnetic" after making five albums over 15 years with producer Bob Rock. Drummer Lars Ulrich told The Pulse Of Radio at the time why the band switched to the Grammy-winning Rubin. "Rick, you know, between the [RED HOT] CHILI PEPPERS and AUDIOSLAVE and SYSTEM [OF A DOWN] and SLIPKNOT and what else, I mean, it's sort of like, okay, I mean, he's the obvious guy. He comes up with some great ideas and has a whole different way of looking at METALLICA than Bob, which is not anything about Bob obviously, but it comes from a very different place and it's really revitalized some different things in us."
Meanwhile, Trujillo also said that METALLICA is "really excited to write some new music. There's no shortage of riffage in METALLICA world right now . . . I know that we've got another couple [of records] in us. And I think there's a demand."
METALLICA last week revealed that the "secret recording project" it was working on in May, first hinted at by lead guitarist Kirk Hammett, is a collaborative album with legendary singer and former VELVET UNDERGROUND frontman Lou Reed. In a statement posted at its official web site, the band wrote, "We are more than proud to announce that we have just completed recording a full-length album that is a collaboration with none other than the legendary Lou Reed. Ever since we had the pleasure of performing with Lou at the 25th anniversary of the Rock And Roll Hall Of Fame at Madison Square Garden in October of 2009, we have been kicking around the idea of making a record together."
The statement added, "We have indeed been working at our home studio at (METALLICA headquarters in San Rafael, California) on and off over the last few months. In what would be lightning speed for a METALLICA-related project, we recorded ten songs during this time and while at this moment we're not exactly sure when you'll hear it, we're beyond excited to share with you that the recording sessions wrapped up last week."
Rolling Stone spoke with both Reed and members of METALLICA about the surprising announcement. Writer David Fricke described the disc as "a raging union of [Reed's] 1973 noir classic, 'Berlin', and METALLICA's '86 crusher, 'Master Of Puppets'." The songs were all written by Reed with extensive arrangement contributions by METALLICA.
Reed called the collaboration "a marriage made in heaven. I knew it from the first day we played together: 'Oh, man, this is perfection, right in front of me.'"
METALLICA drummer Lars Ulrich said, "I don't think we've ever felt this free. There's nothing that's totally outside of the boundary for us, nothing that feels like 'Oh, what happens if we go there?'"
Frontman James Hetfield added, "Lars and I listened to [Reed's demos] and it was like, 'Wow, this is very different.' It was scary at first, because the music was so open. But then I thought, 'This could go anywhere.'"
Songtitles on the record include "Pumping Blood" and "Mistress Dread".
Reed does not have a record deal and METALLICA is no longer signed to Warner Bros. Music after completing their contract with "Death Magnetic", so it is not clear how or when they intend to release the yet-to-be-titled album.
Via Blabbermouth
Death Scream – Heavy Metal Reviews – Heavy Metal Interviews – Heavy Metal News