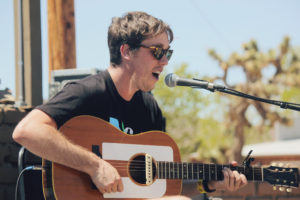 Matt Kivel cuts a swath figure, with his cowboy hat and sly and quizzical countenance.  To be released on Driftless Recordings on October 7th, 2016 will be Mr. Kivel front-on-center on vocals, acoustic guitar and electric guitar. Very impressive is "Permanence" featuring Robin Pecknold (Fleet Foxes) on YouTube. It is a music video featuring a song culled from "Fires On The Plain" and it personifies the human struggle with vexation and vanity. The scenic Western United States sprawls out with scenic and arid desserts framing the beauty and mystery of the music.
An 82-minute journey, "Fires…" is the 2nd album from 2016 from the prolific Matt Kivel. Sophia Knapp and Bonnie "Prince" Billy, for those in the know, also star on this track.
I love how Kivel manages to be so subsuming with his succinct, brief and substantive songtitles. And for that reason alone I have printed them here; so even if you are not familiar with the metaphysical, New Age, one-two punch of Kivel's awesome music you will gain a bit of poetic wisdom from reading the upcoming titles.
(Such depth and sheer originality in a musical act I have seldom heard before!)
A true breath of cold, crisp mountain air.
– Rich Castle