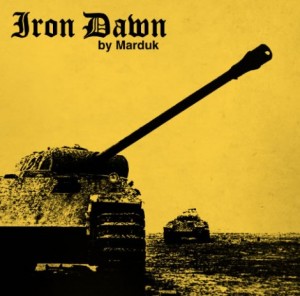 Marduk – 'Iron Dawn' 2011 EP
The most blasphemous band on planet Earth continues to shock and offend. Only this time around the Swedish Black Metal institution known as Marduk have gone back to the illustrious topic of war.
The last album 'Wormwood' dealt with the nothingness void of death that the Swedes believe on. The album before that 'Rom 5:12' concerned itself with the fact that all of humankind are sinners and thus can't help being disgusting!
In direct comparison to 1349, the Black Metal unit from Norway that is currently being touted by blackclad legions of the world; Marduk as of Spring 2011 are heavier. 'Iron Dawn' supports my claim. Heaviness is key in the business of Heavy Metal.
I want everyone to notice that it is the EP title in big bold letters above the band name Marduk. Marduk's logo does not appear anywhere on the stark black on yellow EP cover.
In Metal showbiz talk that means a new chapter has unfolded for Marduk.
In other words, the EP title means more than the band name Marduk.
Satyricon, Behemoth, Old Man's Child, Immortal, Rotting Christ, Belphegor, Watain, Embrace of Thorns, Dark Funeral, Immortal, Abigor, Krisiun, etc.
Black Metal bands the world over must now beware: It is the dawn of a new age for Marduk and the band are celebrating 20 years of existence this year.
If you were slightly disappointed with Marduk's last few albums then this opus nocturne that is 'Iron Dawn' shall knock you off your seat. 'Iron Dawn' is more than a mere return to form. It is a definitive victory.
Marduk are Sweden's true successors to the Q-throne vacated by Quorthon Bathory several years back.|
'Iron Dawn' is meant as a stop-gap EP on sale during the band's ongoing North American tour dubbed 'The Seven Bowls Of Wrath'.
Let's take a brief look at the three tracks here-in:
'Warschau 2 – Headhunter Halfmoon' – 'Panzer Division Marduk' revisited with blitzkrieging imagery as dive-bombing WWII artillery fire rains down on our hapless eardrums, though not in the background of the song nor as an intro or outro but as part of this speeding, charging, clanging, bashing smashfest that is the track itself.
Words can hardly describe how heavy Marduk have become.
Albeit, bereft of the real-life thuggery of Gorgoroth and the out-and-out murderous behavior that has marked the past of scene originators 'The True' Mayhem; Marduk are musical assassins.
'Wacht Am Rhein: Drumbeats Of Death' – Graced with a Manowar alike songtitle aplomb, within this track lies the blackheart of genious that is to be found beating frantically on this new Marduk disc.
'Wacht Am Rhein' stands inbetween the first and last track, making the perfect bifrost bridge for all of the three short, sharp, shocking epic numbers.
The chaos of battle intermingles with the song's composition that finally builds on the majesty Marduk displayed on their own cover of Bathory's 'In Conspiracy With Satan' some years back.
Power chords that ring loud and long juxtapose against throaty rasps that openmouthingly gape as a whirlwind of distortion holocausts by.
If towards the end of this 2nd song on 'Iron Dawn' your fist isn't pounding a table and your head isn't jerking forward affirmatively then you may as well hang up your spikes.
'Prochorovka: Blood And Sunflowers' – Talk about originality: This Marduk songtitle has it in spades.
As for the music, well the third and final song on the EP starts curiously like Accept worship.
It is due to the Hi-dee-hi-doh-hi-dah kind of intro that marked the beginning of one of the teutonic Metal legends' songs. Then comes the end complete as Marduk brings Armageddon to crash down upon us all: It rains blood and sunflowers.
It isn't too hard to picture a big doomstorm of an iconoclast that sweeps the last vestiges of humankind into a big tornadoed dust heap as the imagery to be had on Iron Dawn is just that amazing.
And each of the three songs are pieces that fit together like a jigsaw puzzle.
Mayhem and destruction never sounded this good.
– Rich Castle
Death Scream – Heavy Metal Reviews – Heavy Metal Interviews – Heavy Metal News