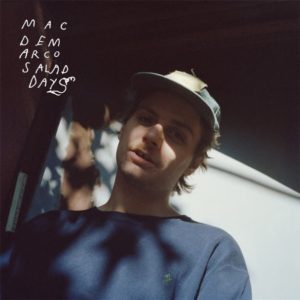 Mac DeMarco's second full-length LP, "Salad Days" is the successor to 2012's much ballyhooed "Mac DeMarco 2".  With his ever-present guitar and that never mistakable croon, the title track — "Salad Days" kicks off to reveal a maturing muso. For 24 years old, DeMarco is certainly writing lyrically in a way that will raise a few eyebrows. Witness this, from "Salad…":
"Salad days are gone, missing hippy Jon / Remember the days just to tell 'em so long / Oh mama, actin' like my life's already over / Oh dear, act your age and try another year.
A positively kvetching tour schedule (which started up all over again as soon as the LP was done) fuels the message behind "Salad Days", giving the fan a candid look at what it really is to be Mac stuck smack dab in the middle of a rising career in  a very public forum.
The first single out of the gate is "Passing Out Pieces", where simmering organ tones take over; clearly something Mac hasn't tried before — going by his past repertoire. Mac has truly moved onwards and upwards in a rising creativity curve!
"Chamber of Reflection", on the other hand is a mad stab at something oddly Prince-like?  Whatever it is, it is a new direction and new standout.
– Rich Castle
So far, so good, Mac.
– Rich Castle