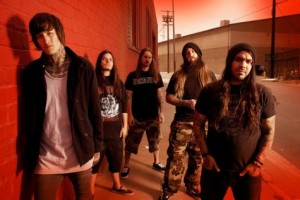 KORN singer Jonathan Davis and SUFFOCATION frontman Frank Mullen will make guest appearances on "The Black Crown", the new album from California deathcore masters SUICIDE SILENCE. The CD was recorded with heavyweight producer Steve Evetts (THE DILLINGER ESCAPE PLAN, EVERY TIME I DIE, HATEBREED) and will be released on July 12 via Century Media Records.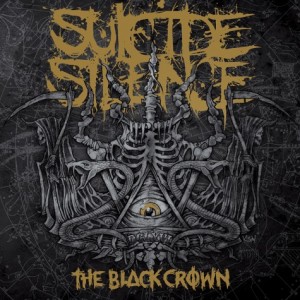 "The Black Crown" track listing:
01. Slaves To Substance
02. O.C.D.
03. Human Violence
04. You Only Live Once
05. Fuck Everything
06. March To The Black Crown
07. Witness The Addiction (feat. Jonathan Davis)
08. Cross-Eyed Catastrophe
09. Smashed (feat. Frank Mullen)
10. The Only Thing That Sets Us Apart
11. Cancerous Skies
SUICIDE SILENCE began filming a video for the song "You Only Live Once" on Sunday, June 5. Vocalist Mitch Lucker commented, "This music video is going to be fucking insane!"
The cover artwork for "The Black Crown" was created by the Delaware-based freelance graphic designer and illustrator Ken "K3N" Adams, who has previously worked with LAMB OF GOD.
"'The Black Crown' is our most mature, well-produced, and well-written record as a band," Lucker told AOL's Noisecreep. "People should come see us play songs from it live on [this summer's Rockstar Energy Drink] Mayhem [Festival] this summer, or buy it when it comes out!"
Lucker also revealed that "The Black Crown" will be SUICIDE SILENCE's third and final release for longtime label Century Media Records. Lucker noted that the band will be free agents after the release of this album.
"You Only Live Once" official lyric video:
Via Blabbermouth
Death Scream – Heavy Metal Reviews – Heavy Metal Interviews – Heavy Metal News