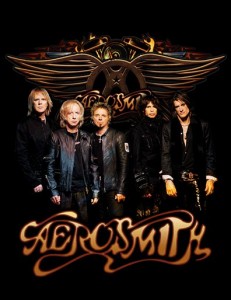 According to Reuters, AEROSMITH will reunite next month with veteran producer Jack Douglas to begin work on the band's long-delayed album, guitarist Joe Perry said on Tuesday.
"Whole band has plans to go into the studio with Jack Douglas second week of July to work on new Aero CD," Perry said on Twitter.
The album will be recorded in the Massachusetts studio AEROSMITH built six years ago.
Most of the members of AEROSMITH spent a few days in late January/eary February working on songs for a new album with co-writer Marti Frederiksen at a studio in Los Angeles. The only man missing was Joe Perry, who was unable to join his bandmates for the sessions due to what Billboard.com described as an "unspecified commitment."
Douglas — who has also worked with THE WHO and John Lennon — produced a number of classic AEROSMITH albums in the Seventies, including "Toys In The Attic" and "Rocks". He also worked on 2004's "Honkin' On Bobo" covers set.
Via Blabbermouth
Death Scream – Heavy Metal Reviews – Heavy Metal Interviews – Heavy Metal News