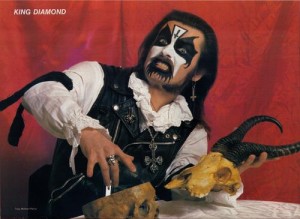 The King is back! A triple bypass operation behind him, King Diamond, age 58, has signed with Metal Blade records for three albums. Guitarist, Andy La Rocque is on board and the studio in which they will record in Sweden has been enhanced. And the money is bountiful, too.
To whet everyone's appetite for the King since he has been away, recovering, is a greatest hits package that brings together both Metal Blade Records and Roadrunner Records. King Diamond has spent his solo career making albums for both companies. "Dreams Of Horror" has been specially prepared to be the definitive King Diamond collection. Every song has been handpicked by the King himself.
Of course, King Diamond first rose up in the early '80's as part of the Danish Heavy Metal superband, Mercyful Fate. "Nuns Have No Fun" by Mercyful Fate was a pro-Satanic Mini-LP, setting the tone for albums "Melissa" and "Don't Break The Oath" that followed. Two stone cold Metal classics these albums became, possessed with unbelievable musicianship and signature soaring vocal vibrato gymnastics courtesy of Kim Bendix (Diamond's real name).
If pressed to say which band is better, as King Diamond would continue to make albums with Mercyful Fate even after having solo album success — I would have to throw up my hands and say: I don't know and why ask such a stupid question anyway?!?
King Diamond's very own band would up the ante as horror stories were weaved as the man with the top hat and a microphone taped to exhumed human crossbones would command the stage with devilish slyness, infectious tunes, and complete magickal mastery.
"Fatal Portrait", "Abigail", "The Dark Sides" EP, "Them", "Conspiracy" and "The Eye" brought King Diamond up the ladder of true legends. Each album being a complete and utter triumph.
Though albums during the 1990's and ensuing decades by King Diamond were solid they consistently couldn't match the early output.
"Dreams Of Horror" re-visits these later songs and redresses them with new studio gloss. The good news is that it works! King Diamond has picked the absolute best songs and many like myself are listening with fresh ears.
The last full-length King Diamond studio album was 7 years ago when 2007's "Give Me Your Soul… Please" was released. Songs like the Grammy Award winning "Never Ending Hill" and "Give Me Your Soul" have a new refined sheen to them. "Black Devil" bores holes in the floorboards with it's stomping bass guitar-driven urgency and furor.
"The Spider's Lullabye" is one song that is a good example of the cinematic job that has been done to seriously revive the songs. Listen under headphones and you can feel the spider creeping onto your livid frame; tickling your hair follicles and making you feel queasy. "Waiting" is another good example: The simple act of King having to wait in the dark sans his medication begging "I can't take another night — I can't take it anymore" is absolutely spellbinding.
Livia Zita is King's young luscious concubine, and she has joined him to be his muse. Every deep and mysterious musician must have a muse, you know!?!
Now it's time to check out again the somewhat overlooked "Abigail II — The Revenge", which continues the amazing story that birthed Diamond classics "The Black Horsemen" and "Abigail", among other great songs from the second King Diamond studio LP "Abigail".
2 CDs, for a grim total of 23 tracks await the nightfiends that adore the King.
You may not hail Satan, but after taking in this whole collection, you shall hail King Diamond!
– Rich Castle